Communication de crise : Le cas d'un appel au boycott
This study deals with the process underlying the impact of three crisis communication strategies - silence, deny and apology - identified in the literature, on boycott intent and buying intent. The case investigated is a boycott request concerning the use of chemical products on meat sold bya supermarket. Results show that the three response strategies impact differently the model inputs (boycott success probability and perceivedappropriativeness of the firm answer). Moreover, silence is anunderperfomant strategy compared to deny and apology. Deny and apology score similarly on behaviors intent.
Dans la plupart des recherches, l'impact des stratégies de réponses des entreprises en situation de crise ont été évaluées directement sur l'image de la marque, l'attitude ou encore, plus rarement, l'intention d'achat. Cette étude propose de considérer le processus par lequel trois stratégies de réponse identifiées dans la littérature - le silence, le déni, et la rédemption - modifient l'intention de boycott et de fidélité à la marque. Le terrain retenu est celui d'un appel au boycott dénonçant l'utilisation de traitements chimiques de la viande vendue en grande distribution. Les résultats montrent que les trois stratégies de réponse ont un impact contrasté sur les inputs du modèle (la probabilité de succès du boycott et la pertinence perçue de la réponse de l'entreprise). De plus, si le silence est une stratégie inefficace, le déni et la rédemption obtiennent des scores d'impact sur les comportements similaires.
Fichier principal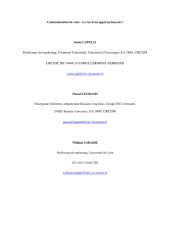 capellilegrandsabadie_AFM_2011.pdf (127.98 Ko)
Télécharger le fichier
Origin : Files produced by the author(s)