Smoking, Income and Subjective Well-Being: Evidence from Smoking Bans
This paper provides estimates of the effects of smoking policies on self-reported well-being using US county-level data. Because the bans were implemented at different times, it is possible to exploit these variations to identify the effect on a broad range of outcomes like self-reported well-being. The impact of smoking bans is estimated on those likely to be smokers relatively to others in order to take into account the effect on former, potential and current smokers. Our estimates suggest that the implementation of smoking bans make those who are predicted to be smokers more satisfied with their life. Within-family externalities and time-inconsistent family-utility maximization explain these findings. Additionally, there is evidence that the largest effect of smoking bans is for parents and married couples where the spouse is predicted to smoke.
Cet article estime les effets des interdictions de fumer sur le bien-être déclarés en utilisant des données américaines identifiant le comté de résidence. Puisque les interdictions de fumer ont été implémentées à différents moments, il est possible d'exploiter ces variations afin d'identifier leurs effets sur plusieurs variables d'intérêt telles le bien-être subjectif. Les conséquences de ces politiques sont estimées sur les individus étant des fumeurs prédits comparativement aux autres agents. Ceci permet de considérer les effets potentiels sur les fumeurs, anciens fumeurs ainsi que les fumeurs éventuels. Nos estimés suggèrent que l'introduction d'interdictions de fumer rend ceux qui sont prédits comme étant des fumeurs plus satisfaits de leur vie. Les externalités intra-familiales et l'inconsistance temporelle de la maximisation de l'utilité familiale expliquent nos résultats. Finalement, les interdictions de fumer affectent davantage les parents et les couples mariés où l'époux/se a une probabilité de fumer plus élevée.
Fichier principal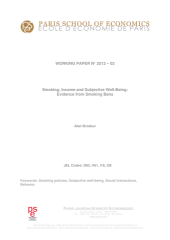 wp201203.pdf (780.93 Ko)
Télécharger le fichier
Origin : Files produced by the author(s)