Phrase et intégration textuelle
This article sets up a twofold modelling of verbal communication: i.e. syntactic computing, and textual computing. Syntactic computing consists in producing / interpreting syntactic elementary units, which follow the 'sentence' pattern (core + peripheric elements), in a step by step ('sequence' by 'sequence') process. Textual computing deals with immediate integration of processed sequences into a higher level of textual representation. The analysis of the oral text shows that the sentence level clearly plays a basic structuring role, which no alternative unit is likely to play. Textual units of a higher level are more difficult to determine, for at least three reasons: (a) sequences may provide heterogeneous materials; (b) embedding sequences in order to build a higher representation is a continuous process, which leads to complex hierarchical structures; (c) the speaker often follows a non-consistent expository path. Intonation has been deliberately left aside: the aim was to extend a purely segmental analysis as far as possible towards a complete account of the text.
L'article propose une modélisation de l'échange verbal en deux temps : traitement syntaxique et traitement textuel. Le traitement syntaxique s'organise autour de la recherche d'unités élémentaires du type 'phrase' (noyau + éventuels éléments périphériques), selon une procédure séquentielle (tentatives couronnées de succès ou non). Le traitement textuel consiste dans l'intégration immédiate des séquences reconnues dans un processus global de construction interprétative. L'analyse du texte oral (détaillée dans la seconde partie de l'article) montre que le niveau syntaxique de la phrase ressort très clairement et apparaît comme le seul point d'appui incontournable dans la (re)construction du texte. Le caractère continu des regroupements en emboîtements successifs, l'hétérogénéité des apports, la non consistance de la démarche d'exposition du locuteur, rendent plus difficile la caractérisation des unités textuelles supérieures à la phrase. L'intonation a été laissée de côté par option méthodologique, pour exploiter au maximum une analyse exclusivement segmentale.
Fichier principal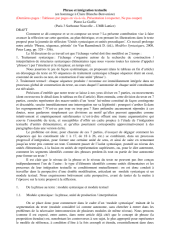 Art_PLG_2011_P_et_IntA_gration_txt.pdf (107.67 Ko)
Télécharger le fichier
Origin : Files produced by the author(s)