Rendre publique l'évaluation des SHS : les controverses sur les listes de revues de l'AERES
This article examines the trajectory of an assessment tool dedicated to the humanities and social sciences: the list of journals published in July 2008 by the official French Research Assessment institution (AERES). It highlights the filiations of that tool with previous assessment practices, describes the intense criticism that its publication has provoked, and examines the socio-technical arrangements performed to support a compromise around a perimeter o scientificity. Far from the conventional wisdom of managerial pressures restricting the autonomy of researchers, this article analyses journal lists as a powerful reminder of disciplinary conventions, singular epistemic and historical tensions dividing HSS.
Cet article étudie la trajectoire d'un outil d'évaluation dédié aux sciences humaines et sociales : la liste des revues scientifiques publiée en juillet 2008 par l'AERES. Il insiste sur les filiations de cet outil avec les pratiques d'évaluation antérieures, rappelle l'intense activité critique que sa publication a suscitée, et examine les arrangements sociotechniques ayant permis d'élaborer un compromis autour d'un périmètre de scientificité. Loin des discours convenus sur les pressions managériales restreignant l'autonomie des chercheurs, cet article analyse la liste des revues comme un puissant révélateur des conventions disciplinaires et des tensions historiques et épistémiques singulières qui traversent les domaines relevant des SHS.
Fichier principal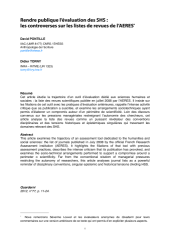 DPDT_2012_Quaderni.pdf (205.02 Ko)
Télécharger le fichier
Origin : Files produced by the author(s)