Les robes des taurins dans les peintures de la Tassili-n-Ajjer (Algérie) : polymorphisme ou fantaisies ?
The comparison of five hundred rock paintings in the Tassili-n-Ajjer with present-day animal husbandry shows that the polymorphic coats of neolithic cattle were most of them depicted realistically. In other words, few are imagined. We thus dispose of new spatial and chronological markers for pluri-millennium cattle coat evolution patterns. This observation raises questions in relation not only to the status of painters, but also to husbandry strategies and social relations between 4000 and 2000 BCE.
La comparaison de cinq cent peintures rupestres de taurins réalisées dans la Tassili-n-Ajjer avec les animaux d'élevage actuels, révèle que les robes polymorphes du bétail dessinées au Néolithique ont été pour la plupart traitées avec fidélité, et que rares sont celles imaginées. De nouveaux jalons spatio-temporels concernant l'évolution plurimillénaire du pelage chez les taurins sont ainsi posés. Ce constat permet aussi de s'interroger sur le statut des peintres et sur les stratégies d'élevage et les relations sociales entre 4000 et 2000 av. J.-C.
Fichier principal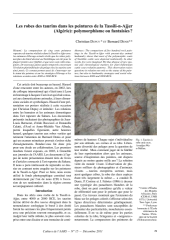 Dupuy_Denis_2011.pdf (2.46 Mo)
Télécharger le fichier
Origin : Explicit agreement for this submission