La durabilité du projet GIANT/Presqu'île à Grenoble : mythe ou réalité ?
The recent capitalism mutations, where "knowledge" tends to replace natural resources and physical work as economic growth's tools, deeply transforms contemporary cities. Progressively, "post-fordist" cities adapt their productive, spatial and organizational structures to the new economic demand. We notably attend the emergence of "Cognitive Urban Systems" (CUS) in the heart of cities, which point is to create spaces for production and continuous promotion of innovation and knowledge. These CUS should overtake the old tecnopolitan models, notably allowing to answer to the great environmental, economic and social issues. Then, if we consider that the sustainable city concept represents a city that tries to make compatible economic development, social and human development, and environmental conversation, it seems legitimate to wonder about the durability of phenomenon acting as part of the CUS.
Les mutations récentes du capitalisme, où la " connaissance " tend à remplacer les ressources naturelles et le travail physique comme outils de croissance économique, transforment en profondeur les villes contemporaines. Progressivement, les villes dites " post-fordistes " adaptent leurs structures productives, spatiales et organisationnelles aux exigences de la nouvelle économie. On assiste notamment à l'émergence de " Systèmes Urbains Cognitifs " (SUC) au coeur des villes, dont l'objet est de créer des espaces propices à la production et à la valorisation continue des innovations et des connaissances. Ces SUC sont sensés dépasser les anciens modèles technopolitains, en permettant notamment de répondre aux grands enjeux environnementaux, économiques et sociaux. Dès lors, si l'on considère que le concept de ville durable désigne une ville qui cherche à concilier le développement économique, le développement social et humain, avec la protection de l'environnement, il semble légitime de s'interroger sur la durabilité des phénomènes à l'oeuvre dans le cadre des SUC. Pour illustrer nos propos, nous concentrons notre analyse sur le projet GIANT1 / Presqu'île à Grenoble.
Fichier principal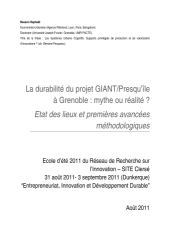 DURABILITE_GIANT.pdf (444.96 Ko)
Télécharger le fichier
Origin : Files produced by the author(s)