Repenser l'économie du changement climatique
The paper makes a case for rethinking the economics of climate change. It questions the way the problem was conventionally framed and solved through top-down international cooperation and carbon emission permits, taxes and pricing. The paper argues that the on-going industrial and energy transition reflects a paradigmatic shift as compared to neoclassical environmental economics that has framed climate policy since the Rio conference in 1992. On a normative basis, the paper maintains that a carbon tax should not follow a Pigovian rationale. To be feasible such a tax should be of a Marshallian nature, i.e. earmarked, and rather modest at the beginning.
L'article soutient que l'économie du changement climatique est à repenser. La manière dont on a posé le problème et recherché des solutions (coopération internationale " par le haut ", permis CO2, taxe, prix du carbone) est présentée et discutée. Il est montré que la transition énergétique et industrielle qui se dessine témoigne d'un changement de paradigme par rapport à l'économie néoclassique de l'environnement qui a sous-tendu la politique climatique depuis la conférence de Rio en 1992. Sur le plan normatif, l'article défend l'idée que la seule taxation du CO2 envisageable est une taxe non pas Pigouvienne mais à la Marshall, c'est-à-dire une taxe dédiée, de financement, dont le montant ne pourrait être au départ que modeste.
Fichier principal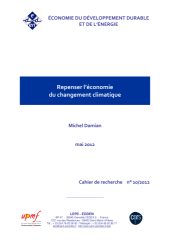 CR10_MD_article-Economie-Appliquee_mai_2012.pdf (293.94 Ko)
Télécharger le fichier
Origin : Files produced by the author(s)