2010-2020 : une décennie décisive pour l'avenir du climat planétaire
The long term future of the planet's climate will depend of the policies implemented in the next decades. While economic development in the last two centuries has been based on an intensive use of fossil energy resources, the major challenge for the XXIst century is the transition towards low carbon energy systems. This will impose drastic changes in the dynamics of some fundamentals variables of energy development in every region, in particular the energy intensity of GDP and the carbon intensity of the energy mix. The accumulation of greenhouse gas in the atmosphere and consequently the climate for the future generations will directly depend of the capability of the international community to implement the required changes in economic development patterns.
L'avenir du climat planétaire à long terme se jouera au cours des prochaines décennies. Alors que le développement économique s'est fondé depuis deux siècles sur le développement massif des énergies fossiles, la question majeure pour l'énergie au XXIe siècle est certainement celle de la transition vers des systèmes énergétiques bas carbone. Cela supposera des transformations profondes, voire des ruptures, dans les variables structurelles qui caractérisent le développement énergétique de chaque région du monde, en particulier l'intensité énergétique du PIB et l'intensité en carbone du mix énergétique. L'accumulation des gaz à effet de serre dans l'atmosphère et donc le climat pour les générations futures dépendra directement de la capacité de la communauté internationale à se mobiliser pour mettre en œuvre rapidement les bifurcations nécessaires.
Fichier principal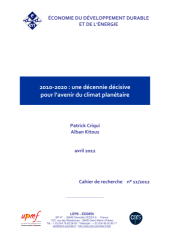 CR11_PC-Kitous_Economie-appliquee_avril2012.pdf (386.52 Ko)
Télécharger le fichier
Origin : Files produced by the author(s)