Race, colour, and skin colour in Brazil
The contemporary anti-racist zeal is banning the word 'race' of our everyday vocabulary. This practice was sanctioned by UNESCO in the postwar years and is now widespread in the press in Brazil. 'Skin colour' became the morally correct way to refer to physical differences before covered by the idea of 'race'. Such a development would be inconsequential if the contemporary social sciences had not included in our vocabulary 'skin colour' as a natural concept, morally neutral. In this article, taking a Brazilian perspective, where 'colour' was historically constructed as a variant of 'race', I try to show the deception of such a naturalistic practice, and suggest that the classification of people by 'skin colour', not only has its foundation in the idea of race, but tends to bipolarity, unlike the Brazilian concept of 'colour', which is based on the ideology of whitening.
Le militantisme anti-raciste contemporain est en train de bannir le mot "race" de notre vocabulaire quotidien. Cette pratique a été sanctionnée par l'UNESCO dans les années d'après-guerre et est maintenant largement répandue dans les médias au Brésil. La " couleur de peau " est devenue la manière moralement correcte de faire référence aux différences physiques auparavant désignées par la notion de race. Un tel développement serait sans conséquence si les sciences sociales contemporaines n'avaient pas inclus dans notre vocabulaire la " couleur de peau " comme concept naturel et moralement neutre. Dans cet article, à partir d'une perspective brésilienne, où la " couleur " a été historiquement constituée comme une variante de la " race ", j'essaie de montrer que cette forme de naturalisation manque son but, et je suggère que la classification des gens par la " couleur de peau ", non seulement a ses fondements dans l'idée de race, mais en outre tend à la bipolarisation, contrairement au concept brésilien de " couleur ", qui est fondé sur l'idéologie du blanchissement.
Fichier principal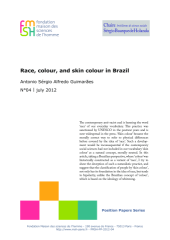 FMSH-WP-2012-04_Guimaraes.pdf (146.13 Ko)
Télécharger le fichier
Origin : Files produced by the author(s)