Les données entre normalisation et territoire : la construction de la trame verte et bleue
The greenways identification process leaves an important place to the use of knowledge. Ecological but also territorial dimensions should be linked up along with different types of knowledge - scientific, managerial or local. Through the case study of a modeling work ordered by a Parc Naturel Regional to a research consultancy we analyzed how the chosen methods keep local sources of information away. Overall we consider the place given to the quantitative data in a world obsessed by performance and transparency. This paper outlines ways to favor discussions and to take into consideration knowledge diversity.
Le processus d'identification des continuités écologiques de la TVB donne une place importante à la mobilisation des connaissances. Il s'agit, en effet, d'articuler les dimensions écologiques et territoriales mais aussi différents types de savoirs (scientifiques, gestionnaires, locaux). Partant de l'exemple d'un travail de modélisation commandé par un Parc Naturel Régional à un bureau d'études, nous avons analysé comment les options retenues aboutissaient à se priver de nombreuses sources d'information locales. Réfléchissant plus globalement sur la place accordée aux données quantitatives dans un monde hanté par la performance et la transparence, cet article esquisse des pistes pour favoriser le débat et la prise en compte d'une pluralité de formes de connaissances.
Fichier principal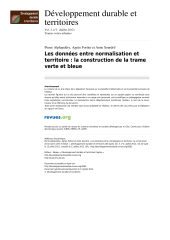 developpementdurable-9282-vol-3-n-2-les-donnees-entre-normalisation-et-territoire-la-construction-de-la-trame-verte-et-bleue.pdf (198.19 Ko)
Télécharger le fichier
Origin : Explicit agreement for this submission