Wikipédia, un projet hors normes ?
Wikipedia and the International Standards Organization both represent a crystallisation of knowledge : of know-how in the case of ISO standards and of encyclopaedic knowledge in the case of Wikipedia. Both are based on reaching a consensus and on collaboration in the form of written texts. From the start, Wikipedia adopted strict rules, in particular its five founding principles. The need for standards has grown with the size of the encyclopaedia.
Wikipédia et l'ISO représentent toutes deux une cristallisation du savoir. que ce soit savoir-faire (ISO) ou savoir encyclopédique (Wikipédia). Toutes deux sont fondés sur la recherche de consensus et la collaboration sous forme de textes écrits. Dès le départ Wikipédia a adopté des règles, avec ses cinq principes fondateurs. La montée en puissance a conduit au développement d'un espace méta (ex. page de discussion) dont le fonctionnement a nécessité une codification.
Fichier principal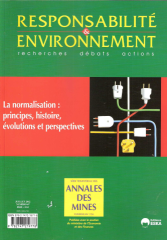 Annales_des_Mines_R_E_juillet_2012.pdf (1.06 Mo)
Télécharger le fichier
Origin : Files produced by the author(s)