Non-lieu et utopie : la diaspora chinoise et le territoire
A-topia and utopia : the Chinese diaspora and territory.- Diaspora is defined by two objective morphological characteristics, multipolar migration and interpolar relationships. A third characteristic can be add ed to these : perception of extraterritoriality, which is a specific form of spatial representation of self. This implies an awareness of the diaspora 's spatial configuration and culture leading to optimisation of its spatial resources, i.e. multipolarised migration and interpolarised relationships. The Chinese who have emigrated begin gradually to see themselves as a diaspora. The situation of extraterritoriality and the perception by a diaspora of a-topia - non-place - contribute to generating and improving the diaspora's own operation as a diaspora, which in its turn enables the kind of utopia that consists in dreaming of oneself as living a life outside of territory.
Deux caractères morphologiques objectifs définissent une diaspora : la multipolarité de la migration et l'interpolarité des relations. À ceux-ci s'ajoute une autre caractéristique : la perception d'exterritorialité, forme particulière de représentation de soi dans l'espace. Elle suppose une prise de conscience de la configuration spatiale de la diaspora et le développement d'une culture, conduisant à optimiser les ressources spatiales. La migration internationale chinoise se voit progressivement comme une diaspora. La position d'exterritorialité, la perception de ce non-lieu, de cette a-topie est une étape indispensable comme intellectualisation du fait morphologique de la diaspora pour établir et améliorer son propre fonctionnement, lui permettant de concevoir cette sorte d'utopie qui consiste à rêver de soi-même dans une vie hors du territoire.
Fichier principal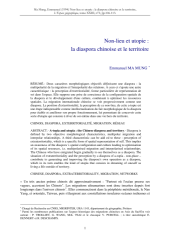 MAMUNG_1994_non_lieu_et_utopie.pdf (93.55 Ko)
Télécharger le fichier
Origin : Files produced by the author(s)