De l'ambiguïté des segments averbaux en français parlé
Verbless segments can play many different roles. These roles range from working as a sentential constituent to being a predicate. Yet, their analysis in spoken French is not always straightforward. In this article, we shall study two cases when the syntactic interpretation of verbless segments in spoken French is ambiguous: (i) verbless segments which can be given different statuses. (ii) complements which can be postponed, verbless constituents which partake of the three following categories: integrated elements, detached elements and autonomous elements. We shall assess the efficiency of the various means used to disambiguate the interpretation of these segments, i.e. the use of the linguistic context, of the prosodic and semantic levels, of word order, etc.
Les segments averbaux constituent un ensemble hétérogène en français parlé et présentent de ce fait une difficulté dans le cadre d'une analyse syntaxique de la langue. En effet, à l'oral, les segments sans verbe potentiellement susceptibles de présenter plusieurs interprétations pour l'analyste sont nombreux. Dans cette contribution, nous étudions deux cas d'ambiguïté pour l'analyse : (i) les segments averbaux autonomes susceptibles d'être analysés selon deux interprétations distinctes et (ii) les compléments différés, c'est-à-dire les constituants "flottants", périphériques, oscillant entre rattachement, détachement et autonomie. Nous montrons que le travail de segmentation ne peut s'effectuer qu'en recourant à d'autres niveaux d'analyse, consubstanciels à la syntaxe : la prosodie, principalement, mais aussi les relations de discours et la sémantique.
Fichier principal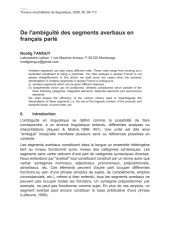 Tanguy_Tranel.pdf (515.48 Ko)
Télécharger le fichier
Origin : Explicit agreement for this submission