Coordonner transport et urbanisme. Visions et pratiques locales en Suisse et en France
In Europe, the idea that coordinating transport and urban planning is a necessary condition for setting sustainable urban development into motion has spread throughout academic and professional circles. If there is nothing new regarding this concern, the objectives underlying transport and urban planning coordination have deeply changed since the late 1960s. How has the shift in perspective, from adapting the city to the automobile toward promoting sustainable cities and mobilities, been translated into action? And what of local issues, visions, and coordination practices surrounding transportation and urban planning? What factors favor this kind of integration, and can we identify sources of inertia and causes of public action fragmentation? Based on a comparative study of four urban area's transport policy and urban planning trajectories (Geneva, Bern, Strasbourg and Bordeaux), this paper analyses the coordination between transport and urban planning as a political process in permanent (re)construction.
L'idée selon laquelle une meilleure coordination entre les politiques de transport et d'urbanisme est une des conditions d'un développement urbain durable est largement admise par les chercheurs, les professionnels et les responsables politiques. Si cette conception n'est pas nouvelle, les objectifs qui la sous-tendent ont largement évolué depuis la fin des années 1960. Comment le changement de perspective de la ville automobile à la ville durable a-t-il été traduit en action ? Qu'en est-il des enjeux, des visions et des pratiques locales de la coordination entre transport et urbanisme ? Quels sont les facteurs qui favorisent cette articulation et peut-on identifier des causes d'inertie de l'action publique ? A partir d'une étude croisée des trajectoires des politiques de transport et d'urbanisme dans quatre agglomérations suisses et françaises (Berne, Genève, Strasbourg et Bordeaux), cet article analyse la coordination urbanisme-transport comme un processus politique en (re)construction permanente.
Fichier principal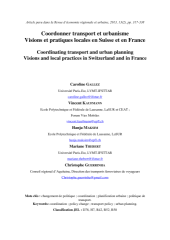 Preprint-RERU-2013.pdf (462.37 Ko)
Télécharger le fichier
Origin : Files produced by the author(s)