Le Projet de l'enquête départementalisée de l'IHTP (2008-2012) " LA GUERRE FROIDE VUE D'EN-BAS " 1947-1967.
Bottom-up view of the Cold War in France. This collective project looks the French experience of the Cold War. It develops a novel approach from the bottum-up to grasp its meaning from the stand-point of local actors. It seeks to shift the focus away from the usual field of international relations which more often than not offers an oversimplified view of the Cold War. Instead, it rests on the assumption that it matters to look at the impact this world-view had on specific localities and what common people made of it, if we are to understand what it came to mean over time and specifically for French people. The contributors to this project do not intend to look again at the nature of the Cold War. They ask different questions altogether : how did people experience the Cold War and in which ways did it affect their lives ? How did it shape behaviors and ideas people had in specific places ? To which extent did the Cold War operate as a conceptual framework allowing common volks to make sense of what surrounded them ?
L'approche inédite " par le bas " permet d'appréhender la guerre froide au plus près des acteurs locaux. Cette recherche collective, repose sur une double ambition : tout d'abord, révéler la guerre froide ailleurs que là où elle est communément située, analysée, voire réduite. Ensuite, retrouver une autre Guerre froide que celle élaborée par les seuls agents des relations internationales. Nous avons fait l'hypothèse qu'une approche dite " par le bas ", non seulement localisée, mais aussi soucieuse des appropriations par des agents ordinaires, permettrait de mettre au jour des modalités singulières de construction de ses représentations. Cette enquête n'entend pas revenir sur ce que fut la Guerre froide, mais pose la question, inédite, de ses différentes expériences et usages sociaux. Comment l'ombre de la Guerre froide porta sur les comportements et les discours locaux ? Comment constitua-t-elle, selon quelles modalités singulières et dans quelles limites précises, une grille de lecture permettant à des acteurs locaux de donner du sens à leur environnement immédiat ?
Fichier principal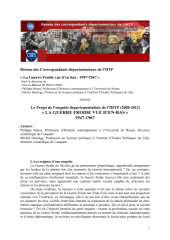 GF_PROJET_PB_MH.pdf (172.86 Ko)
Télécharger le fichier
Origin : Files produced by the author(s)