Dominance, dependence and interdependence in linear structures. A theoretical model and an application to the international trade flows
This paper aims to study the structure of international trade. It establishes, through a simple formalization of exchange coefficients, that many theorems can be proved on a function of the macroscopic structure (the determinant of the matrix). This determinant is the cornerstone of indicators to analyze the evolution of trade between countries and regions. The objective is to introduce new tools to rigorously measure the characteristics and effects of globalization. The structural analysis proposed in this way can be applied to many other areas.
L'objet de cet article est d'étudier la structure du commerce international. A partir d'une formalisation simple des coefficients d'échange, il propose une série de théorèmes fondés sur les propriétés du déterminant matriciel. Ce déterminant est la pierre angulaire d'une série d'indicateurs permettant l'analyse du commerce entre les pays et les régions. Ces indicateurs nous conduisent à identifier les caractéristiques et les effets de la globalisation des échanges. Cette analyse structurale peut être appliquée à de nombreux autres domaines.
Fichier principal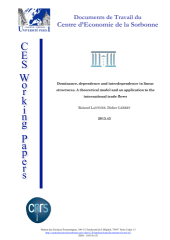 13043.pdf (677.64 Ko)
Télécharger le fichier
Origin : Files produced by the author(s)