Investments in Quality, Collective Reputation and Information Acquisition
In many cases consumers cannot observe firms' investment in quality or safety, but have only beliefs on the average quality of the industry. In addition, the outcome of the collective investment game of the firms may be stochastic since firms cannot control perfectly the technology or external factors that may affect production. In such situations, when only consumers' subjective perceptions of the industry level of quality matters, the regulator may make information available to firms or subsidize their information acquisition. Under what conditions is it desirable to make information available? We show how firms' overall level of investment in quality depends upon the parameters of the quality accumulation process, the cost of investment and the number of firms in the industry. We also show the potentially negative effects on the total level of quality from providing information on consumers' actual valuation.
Dans plusieurs situations les consommateurs ne peuvent pas observer les investissements des firmes pour la qualité et la sécurité des produits. Les firmes, pour leur part, ne peuvent pas parfaitement contrôler le processus de production et la réalisation de la qualité finale est incertaine. Nous analysons un jeu dynamique de firmes qui peuvent investir dans la qualité sous deux conditions : la qualité réalisée est stochastique et les consommateurs ont des perspectives subjectives de la qualité moyenne. Nous déduisons les conditions d'investissement et la valeur de la firme qui en résultent et nous déterminons les conditions sous lesquelles une firme chercherait à obtenir des informations exactes sur la perception des consommateurs. Ensuite, nous nous demandons si une agence extérieure devrait fournir ces informations aux firmes. Sous les hypothèses sur l'évolution stochastique de la qualité agrégée ainsi que sur la distribution non-biaisée des perceptions des consommateurs, la réponse est négative ; même à coût nul, cette information ne devrait pas être fournie aux firmes afin de maximiser la qualité.
Fichier principal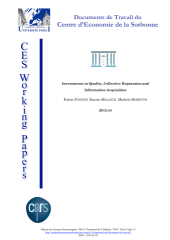 13044.pdf (847.4 Ko)
Télécharger le fichier
Origin : Files produced by the author(s)