A study of mental models and social representations: a path towards the denaturalization of the beliefs of the actors
In order to conduct a situational analysis of the needs expressed by the actors in the territory of "Trancas" in the province of Tucuman -Argentina - interviews were carried out in depth to technicians, milk producers, manufacturers and traders of that area. The topics of the interviews were jointly produced with the actors. Though this strategy we evaluated: the type of activity, its characteristics, the production and economic exchanges that occurs in the area. A qualitative analysis of the data was performed and then it has been presented to the actors in terms of tensions between the mental models and social representations of the various sectors that interact in the context of milk production. We used the Atlas.ti software support to analyze the results. This first confrontation with their own beliefs and mental models allowed the increase of the capacity of consensus between them and a rethinking of short and medium term objectives. It is expected that this intervention contribute to improve the socio-ecological transition and territorial resilience of the area under study.
Con el objetivo de efectuar un diagnóstico situacional de las necesidades expresadas por los actores del territorio de Trancas, prov. de Tucumán, República Argentina, se realizaron entrevistas en profundidad a técnicos, productores lácteos, industriales y comerciantes de la localidad. Los ejes temáticos de las entrevistas fueron generados conjuntamente con los actores y fueron: el tipo de actividad, las características de la misma, la producción e intercambios económicos que se producen en la zona. Se realizó un análisis cualitativo de los datos, los cuales se presentaron a los actores en términos de tensiones entre los modelos mentales y representaciones sociales de los distintos sectores que interactúan en el marco de la producción lechera. Se utilizó el soporte técnico del software Atlas.ti Esta primera confrontación con sus propias creencias y modelos mentales permitió aumentar la capacidad de consenso entre ellos y un replanteo de objetivos a corto y mediano plazo. Se espera que esta intervención contribuya a mejorar la transición socio-ecológica y la resiliencia territorial del área bajo estudio.
Fichier principal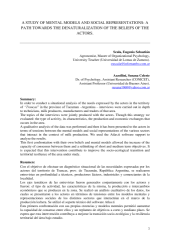 INTI-2013-besancon-dijon-SCALA-AZZOLINI.pdf (237.69 Ko)
Télécharger le fichier
Origin : Files produced by the author(s)