An epistemology of distance. Ethnography of training activities: engineering and management in higher education organizations
I first present a current fieldwork in distance education engineering and its results (2011-2013) and compare them to previous more exotic studies (in an Amazonian tribe, 2001; in new economy start ups, 2000-2004; about bullfighting (2007-2011). I then launch a discussion about the question of distance: 1. Cultural distance to the fieldwork. What is seen first (when one is a stranger)? What is seen after a few months (when one gets socialized)? 2. Distance to oneself in higher education: how to regularly take a "step back" to observe and describe? How to become an observer who is distant to one's own world? 3. Distance to research community: what is the optimal distance in the researcher's description, taking into account his potential readers and their closeness to the subject? As a conclusion, I propose a 3D model combining the measure of these three distances.
Document épistémologique combinant plusieurs types de distances à mesurer dans l'activité d'ethnographie des organisations éducatives : distance au terrain, distance à la communauté scientifique, distance à soi.
Fichier principal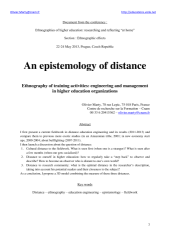 epistemology_distance.pdf (377.4 Ko)
Télécharger le fichier
Origin : Files produced by the author(s)