La dette publique française justifie-t-elle l'austérité budgétaire ?
Recent talks claiming the necessity of austerity measures in France often take the unsustainibility of public debts as a starting point. In this analysis, we show that the current public debt levels in France are not a sufficient reason to undertake such austerity policies. To substantiate our claims, we apply a VAR methodology on six relevant macroeconomic French series. A negative shock of only -1% to public expenditures is found more likely to have recessionary effects (increased deficit, debt and a higher level of unemployment) rather than the expected positive effects. In particular, it would presumably increase unemployment in France by 1 million people, confirming that the main scenario threatening France today is a deflationary liquidity trap akin to the Japanese scenario.
Nous montrons que, contrairement aux arguments apportés pour justifier les politiques d'austérité budgétaire imposée à la France, le niveau d'endettement de la puissance publique, en France, ne justifie aucunement une telle politique publique. En outre, nous montrons au moyen d'une simulation VAR qu'une réduction de -1% des dépenses publiques françaises en 2013 induirait vraisemblablement un accroissement d'un million de chômeurs supplémentaires en deux ans, tout en augmentant in fine la dette publique. Cette simulation confirme notre diagnostic principal selon lequel c'est aujourd'hui la trappe à liquidité déflationniste qui menace l'économie française, dans le sillage du scénario japonais.
Fichier principal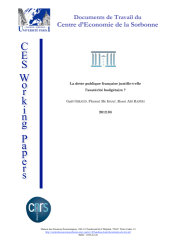 12093.pdf (2.15 Mo)
Télécharger le fichier
Origin : Files produced by the author(s)