Un corpus des premiers fragments grammaticaux à Rome
The point of this paper is to set out some of the problems one may encounter in establishing a corpus of the origins of grammar in Rome. I will consider the period before Varro's works, and in particular the time prior to De lingua Latina, which was written in 45 B.C.E. Given that grammar was defined as a much broader field in the Ancient world than it is today, one may wonder how a corpus should be established, whether as one of grammar fragments or of grammarians' fragments. In order to set out some guideline, I will analyze these two approaches, which may imply some differences in the choice of both authors and fragments. The issues raised will be illustrated by a list of authors.
Cet article propose de mettre en évidence les difficultés posées par l'établissement d'un corpus des fragments des origines de la grammaire à Rome, période entendue comme celle qui précède les travaux de Varron, et plus précisément la composition du De lingua Latina en 45 avant J.-C. La définition de la grammaire étant beaucoup plus large dans l'Antiquité que de nos jours, se pose la question de l'angle de vue à adopter, entre fragments de grammaire et fragments de grammairiens. Nous examinerons ces deux approches, qui impliquent des choix d'auteurs et de textes différents, afin de proposer quelques principes pour l'établissement de notre corpus, illustrés par une liste d'auteurs mettant en relief certains points problématiques.
Fichier principal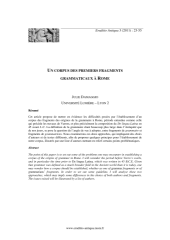 EA3c.Damaggio_versionavecnote.pdf (343.52 Ko)
Télécharger le fichier
Origin : Explicit agreement for this submission