Les premières peintures murales de l'église de Saint-André-des-Eaux (Côtes-d'Armor) : analyse archéologique d'un ensemble ornemental roman
The ruins of the ancient parish church of Saint-André-des-Eaux (Côtes-d'Armor), situated ten kilometres southeast of Dinan, still preserve traces of the eleventh-century building's earliest wall paintings. An archaeological study of the elevations and soundings made in 2007-2008 led to new understanding of the building and its decoration. The results, supplemented by the discovery of hundreds of plastered fragments and by twentieth-century photographs made for the Musée des Monuments français, have been used to reconstruct the painted decoration and its layout. The geometric polychrome construction of these wall paintings and the mixed technique that was used tends to link them with Romanesque or even pre-Romanesque pictorial tradition that is found in several churches that characterise the "first Romanesque", which have often gone unrecognized in Brittany. Certain analogies with the monumental decorative repertory of the second half of the eleventh century suggest possible parallels with other techniques of wall decoration (patterned stonework, sculpture, ornamental mouldings).
Les ruines de l'ancienne église paroissiale de Saint-André-des-Eaux (Côtes-d'Armor), située à une dizaine de kilomètres au sud-est de Dinan, conservent encore les traces des premières peintures murales de l'édifice dont la construction remonte au cours du XIe siècle. Une campagne d'étude archéologique des élévations et de sondages, conduite entre 2007 et 2008, avait pour objectif d'apporter de nouveaux éléments à la compréhension de l'édifice et de ses décors. Les résultats de ces recherches, enrichies par la découverte de plusieurs centaines de fragments d'enduits peints lors de la fouille et par l'existence de relevés et de photographies réalisés au début du XXe siècle pour le musée des Monuments français, permettent aujourd'hui de proposer une restitution de ces décors peints et de détailler leur mise en œuvre. La construction géométrique et polychrome de ces peintures ornementales, tout comme la technique mixte utilisée pour leur réalisation, invitent à les rattacher à une tradition picturale romane, voire préromane, que l'on retrouve dans plusieurs églises caractéristiques du " premier art roman ", dont les manifestations restent particulièrement méconnues en Bretagne. Certaines analogies avec le répertoire décoratif monumental de la seconde moitié du XIe siècle interrogent sur les parallèles entre la peinture murale et les autres techniques de la décoration murale romane (appareillages, sculpture, modénature).
Fichier principal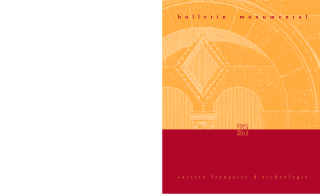 2013_BM_St-André.pdf (2.84 Mo)
Télécharger le fichier
Origin : Publisher files allowed on an open archive