Ce que l'histoire de la psychiatrie nous dit de la psychanalyse
What the history of psychiatry tells us about the shift from psychoanalysis For many years, psychoanalysis has exerted a great influence on social sciences and more specifically on all matters concerning the field of mental health. More recently, this influence has been eroded as psychoanalysis' therapeutic efficiency has been criticized. In order to participate in discussions developing an alternative to the vision of utilitarian theorists, we propose to better identify the reasons for the difficulties faced today by the psychoanalytic discourse. Adopting a historical perspective, we study the discourse of care in psychiatric institutions. Since its inception, psychiatric institution has been characterized by the necessity of holding an anthropological vision in order to justify its treatment practices. For a time, psychoanalytic discourses established such a link between an anthropological vision and therapeutic practices. This link has been weakened as new configurations have emerged. Among them, the strongest is probably the contemporary ideology of new public management.
Pendant de nombreuses années, la psychanalyse a exercé une grande influence sur l'ensemble des sciences humaines et plus spécifiquement sur toutes les questions relatives au monde " psy ". Plus récemment, cette influence s'est érodée en raison de critiques portant sur son efficacité thérapeutique et au profit d'autres domaines de connaissance sur le psychisme. Dans l'optique de participer aux réflexions développant une vision alternative à celle portée par les théoriciens utilitaristes, nous proposons de mieux identifier les raisons des difficultés rencontrées aujourd'hui par le discours psychanalytique à partir d'une mise en perspective historique des discours structurant l'organisation du soin dans les établissements psychiatriques. Depuis son émergence, l'institution psychiatrique se caractérise par le fait qu'elle se doit de porter une vision anthropologique afin de justifier de ses pratiques thérapeutiques, dont les résultats manquent d'évidence pratique. Pendant un temps, la référence à la psychanalyse permettait précisément d'articuler vision anthropologique et pratique thérapeutique. Cette référence s'est affaiblie devant l'émergence de nouvelles configurations, dont l'idéologie contemporaine de l'évaluation constitue sans doute la forme la plus forte.
Fichier principal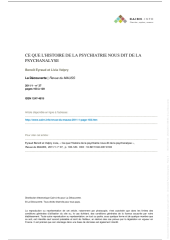 2011EyraudVelpryRDM_037_0103.pdf (144.33 Ko)
Télécharger le fichier
Origin : Publisher files allowed on an open archive