Les entreprises au Royaume-Uni
This chapter of the book "Formations et emplois qualifiés. Les transformations dans le Bâtiment en France et au Royaume-Uni" analyses management strategies and organisational changes during a period of continuous crisis. The concept of cascading subcontracting (sous-traitance en cascade) introduced here encapsulates a new phenomenon observed simultaneously in the ever changing organisation of work between and within the firms. This is an important result of a research based on a 34 firm monographic and comparative analysis, with different company sizes from large to small ones. Cascading subcontracting results from a process of externalisation of certain sections of the labour force within leading firms that have found new ways to expand during recessive periods: their restructuring does not necessarily correspond to a reduction of their activity but to a structural reorganisation aiming to maintain or expand their market shares whilst reducing costs, risks and responsibilities. The new combinatorial dynamics associates economic growth and rise of turnovers with externalisation and reduction of employment enhancing a cascading effect on lower ranks of subcontractors that will in turn develop similar principles of restructuring. This concept is going to become a cornerstone of the theory of controlled autonomy, an analytical key of the concentration and fragmentation process.
Extrait du livre Formations et emplois qualifiés. Les transformations dans le Bâtiment en France et au Royaume-Uni, ce chapitre analyse la dynamique des firmes et leurs changements organisationnels. Le concept de sous-traitance en cascade, cascading subcontracting, est ici introduit pour désigner un phénomène nouveau mis en évidence grâce à l'enquête menée dans 34 entreprises, grandes, moyennes et petites. La comparaison internationale et l'observation des changements inter et intra-entreprises, montrent l'apparition d'un processus d'externalisation du travail qui ne s'accompagne pas nécessairement d'une réduction d'activité, mais de son maintien, voire de son accroissement : la stratégie managériale des entreprises leaders qui se déploient de cette façon en période de crise, vise simultanément l'extension des parts de marchés et la diminution des coûts salariaux, des risques et des responsabilités. Les fonctions de pilotage pour capter la plus-value s'accompagnent dès lors d'un désengagement du travail d'exécution qui impactent l'organisation de l'ensemble de la branche par un effet en cascade. Cette nouvelle combinatoire associe croissance économique et augmentation du chiffre d'affaires avec externalisation et réduction des effectifs productifs dans les entreprises leaders. Ce concept va devenir une pierre angulaire de la théorie de l'autonomie contrôlée.
Fichier principal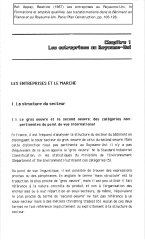 Appay_1987_la_sous-traitance_en_cascade_pp105-128_2.pdf (1.54 Mo)
Télécharger le fichier
Origin : Explicit agreement for this submission