L'exploration comme modalité d'ouverture attentionnelle : Design et régulation d'un jeu freemium
The idea of "exploration" is seldom found in the study of uses of digital technology,yet it is a key to understanding the nature of the engagement of users who diverge from the rigid constraints of a script. This attentional openingis dealt with in different ways by pragmatist theorists. Three understandings are provided by: A. Piette's phenomenography of distracted action; A. Hennion's pragmatics of objects and of passion; and L. Thévenot's theory of regimes of engagement. The latter is applied to the study of an online game to show that the encouragement of curiosity demands an "emergent design" of the digital object that can cater for players' essentially fragile exploratory engagement. Without this, we find the resurgence of a plan regime among certain users, leading to inequalities and sometimes crises.
La notion "d'exploration" est peu mobilisée dans l'étude des usages du numérique. Elle est pourtant centrale pour comprendre la nature des engagements de ces usagers qui dérogent aux contraintes rigides d'un script. Cette ouverture attentionnelle est diversement prise en charge par les théories pragmatistes. Trois d'entre elles l'appréhendent toutefois : la phénoménographie de l'action distraite d'A. Piette, la pragmatique des objets et de la passion d'A. Hennion et enfin la théorie des régimes d'engagement de L. Thévenot. Cette dernière est mobilisée pour l'étude d'un jeu en ligne et montre que l'encouragement à la curiosité exige un " design émergent " de l'objet numérique qui soit capable de prendre en charge la dimension essentiellement friable de l'engagement exploratoire des joueurs. Sans cela, on observe la résurgence d'un régime du plan parmi certains usagers, ce qui occasionne des inégalités et parfois des crises.
Fichier principal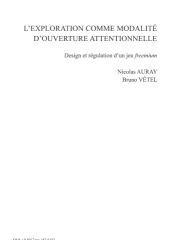 AURAY, VETEL-2013-L'exploration comme modalité d'ouverture attentionnelle-.pdf (14.72 Mo)
Télécharger le fichier
Origin : Publisher files allowed on an open archive