La ville hyper réelle et les dimensions utopiques du projet urbain contemporain
The production of a hyper real urbanity deals with the aim of building a perfect world. First developed with movies, tourism and leisure, the hyper realization of spaces has been a major social process over recent decades, technologically and symbolically mediating the contemporary experience of spaces: it is a form of post-modern domestication of reality, building a more authentic reality. This transformation might be defined as the simplification of the natural, direct experience to produce one that is specific and simulated: this involves a shift from symbolisation and abstraction to the creation of icons and simulated features at the centre of this process, using narrative, presentations of everyday life and social models to build a clear reality and thus an obvious identity for the people involved. It is also the reality of hidden power relations between a small number of people able to initiate a world of hyper reality and a majority of consumers or spectators involved in consumption and reiteration of these normalizing and disciplining procedures. It's now democratic powers, once created to escape to these means of constraint, that better use these by control of computer mediated communications, digitally virtual environment, or disneylandification, but first, the diffusion of this hyper real information. The process produce a destabilization of the subject identity closed in constraint structured territories up to calling into question the cultural foundations of these territories. This paper intends to examine how these spaces are built, producing a new urbanity and it pleads for promoting a central political thought of the nowadays main spatial production process.
Le discours catastrophiste de la ville fragmentée et désocialisée est très commun mais de nouvelles formes de socialisation apparaissent, beaucoup d'autres évoluent et composent au final une société aussi balisée que n'importe quelle autre par des réseaux de normes efficaces : si tout projet social a une dimension utopique, la réalisation contemporaine d'une ville hyper réelle vise à construire un " monde parfait " (Lussault, 1998). Ce concept aborde les processus d'interaction avec une perspective renouvelée qui interroge le sens profond de notre insertion dans l'espace. L'hyper réel est donc envisagé comme un processus social d'adaptation et création du réel selon des logiques initiées par la virtualisation, toujours discursive, parfois également d'origine technologique. Les medias jouent un rôle dominant dans ce mouvement. Leur importance croissante jointe à la permanence de pouvoirs symboliques et économiques dotés d'idéologies précises rend urgent de ré-ancrer le politique dans le processus majeur de production contemporaine des espaces, souvent encore abordé d'une manière idéalisée (Lévy, P., 1997) ou apocalyptique (Baudrillard, 1995 ; Davis, 1997). Enfin, la dimension très inégalitaire d'accès à ce processus d'hyper réalisation tant en terme social que culturel renforce fortement le mouvement de ségrégation à l'œuvre dans nos sociétés (guerre aux pauvres). Si une large part des populations est susceptible de participer d'une manière ou d'une autre à la construction de cette utopie spatiale, les développements induits par ses changements dépendent surtout de ceux qui disposent de moyens économiques, culturels et politiques conséquents pour imposer cette médiaculture hyper réalisante : Etats, entreprises et groupes sociaux les plus influents. Dans ce contexte, cela génère une accélération et une sophistication croissante des processus de disciplinarisation. Cette reconfiguration des espaces publics est abordée à travers l'étude de trois types d'espaces particulièrement concernés : la périphérie, les centres commerciaux et les espaces de loisirs.
Fichier principal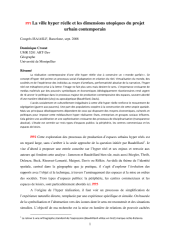 Ville_hyper_rA_elle_Barcelone_2008.pdf (344.29 Ko)
Télécharger le fichier
La_ville_hyper_rA_elle_et_les_dimensions_utopiquesPPCrozat.ppt (2.89 Mo)
Télécharger le fichier
Origin : Files produced by the author(s)