Partager ses secrets en public
We can be tempted to interpret the evolution of the Web and especially of social networks as a victory of an ideology of visibility, denying the right to withhold, withdraw and disconnect. Does this dictatorship of transparency, which is threatening even State secrets, means the end opacities, gray areas and moving frontiers between what is shown et whant is hidden ? We want to show that the digital environment is characterized instead by a regime of ambivalent visibility, where publication does not necessarily mean quitting secret. Under a new form of sharing, "privacy in public" is a social activity where individuals do not expose everything, but settle their distances playing opportunities which are offered by platforms. For their part, actors of industry Web opacify algorithmic process of their strategies behind the illusion of smooth and transparent communication space to orchestrate the great conversation where everything is said. However, increasingly, users seem claim zones where they would not be traced.
On est tenté d'interpréter l'évolution du Web et plus particulièrement des réseaux sociaux comme la victoire sans retour d'une idéologie de la visibilité, déniant le droit de se dissimuler, de se retirer et de se déconnecter. Cette dictature de la transparence, qui menace aujourd'hui jusqu'aux secrets d'État, signe-t-elle pour autant la fin des opacités, des zones grises et des frontières mouvantes entre ce qui circule et ce qui se cache ? Nous voudrions montrer que l'environnement numérique se caractérise au contraire par un régime de visibilité ambivalente, où publication ne signifie pas nécessairement renoncement au secret. Relevant d'une nouvelle forme de partage, la privacy en public est une activité sociale où les individus n'exposent pas tout, mais règlent leurs distances en jouant des possibilités offertes par les plateformes. De leur côté, les industries du Web opacifient les process algorithmiques sur lesquels reposent leurs stratégies derrière l'illusion d'un espace de communication lisse et transparent, pour orchestrer la grande conversation où tout se dit. Mais, de plus en plus, les usagers semblent revendiquer des zones de non traçabilité.
Fichier principal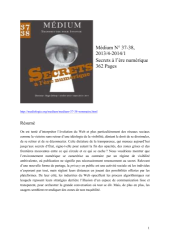 Merzeau-Medium-Secret.pdf (236.89 Ko)
Télécharger le fichier
Origin : Files produced by the author(s)