Changements dans les entreprises et accès des seniors à la formation continue : une comparaison entre les années 1990 et 2000
This paper examines whether dynamic work contexts in manufacturing are associated with specific age-training profiles. During the 1990s, we observe a comparative disadvantage of blue collar workers and clerks aged 50 to 59 with regards to training in ICTs. This is no longer visible over the following decade. By contrast, we identify a lower incidence of training in the main task for older workers. These results invite us to think about the specific training needs, when confronted to a changing work environment, of employees who have accumulated more experience.
Cet article examine si la dynamique des contextes professionnels dans l'industrie est associée à des profils spécifiques de formation selon l'âge. On observe, au cours des années 1990, un déficit de formation à l'informatique pour les ouvriers et employés de 50-59 ans dans les entreprises ayant un usage avancé des technologies de l'information et de la communication (TIC), déficit qui n'est plus visible pendant la décennie suivante où l'on identifie en revanche un moindre accès des seniors à la formation à la tâche principale. Ces résultats invitent à réfléchir aux besoins spécifiques en formation, face aux changements du travail, des salariés ayant accumulé plus d'expérience.
Fichier principal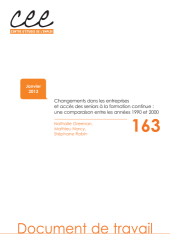 163-changements-entreprises-acces-seniors-formation-continue-comparaison-1990-2000.pdf (606.53 Ko)
Télécharger le fichier
Origin : Publisher files allowed on an open archive