Nuevo enlace ferrovial interprovincial Santa Fe-Entre Ríos. Una oportunidad de escala regional.
The province of Santa Fe, Argentina, is located in a strategic area conformed by key factors: the potential of Paraná-Paraguay Waterway, the bi-oceanic road corridors and the existing network of railway lines. This set generates a dynamic integration considering economic, social cultural and political spheres, oriented to the own territory but also in relation to other provinces and beyond national borders. The capital region, who has a core given by Santa Fe city, is characterized by dynamic factors: risk of flooding, intensification of economic flows, demographic concentration processes and growing interdependence among Santa Fe and Paraná (city capitals of Santa Fe and Entre Rios provinces), populations that are involved in a progressive metropolitan binuclear process. These factors, in addition to the real scenario about few spatial connections through Paraná River system, have installed the need of built a new interprovincial link adapted to a railway reactivation hypothesis. The project is in preliminary stage. The main issue is the decision of its specific location that must consider the transformative effect of a big edification like this, related to the natural platform and the system of human settlements. Also, their territorial scopes and the potential impact on micro, middle and macro scale. The purpose of the research is to describe the dimensions involved by the project (technical, social, economic, environmental, mobility), to discover the more auspicious stage and/or the less adverse scenario, considering all the proposals for project locating that are currently under discussion. The result is an analytical structure based on quantitative and qualitative rates, which allows a comprehensive assessment of the proposals considering for each one the impact on natural platform and their abilities to reverse the current territorial issues. Also, this process can do visible the capabilities of each proposal to generate new lines of development or enhancing the existing ones in the region. We conclude that multidimensional analysis in a preliminary phase like this are useful to bring up for discussion, previous to begin feasibility and viability technical studies, because allow an integral
La provincia de Santa Fe, Argentina, se encuentra en una localización estratégica. La potencialidad de la Hidrovía Paraná - Paraguay, los corredores bioceánicos viales y la red existente de trazados ferroviarios le confieren gran dinamismo a su integración económica, social, cultural y política, no sólo hacia el interior del propio territorio, sino también en relación a las demás provincias y más allá de los confines nacionales. La región capital, cuyo núcleo es la ciudad de Santa Fe, se encuentra caracterizada por factores realmente dinámicos: el riesgo hídrico que es intrínseco del área, la intensificación de los flujos económicos pasantes, los procesos de concentración demográfica y la creciente interdependencia entre ciudades, como es el caso de Santa Fe y Paraná (capital de la vecina provincia de Entre Ríos), bajo un progresivo proceso de metropolización binuclear. Estos factores, sumados a la escasa cantidad de conexiones físicas sobre el sistema fluvial del río Paraná, han instalado la creciente necesidad de contar con un nuevo enlace interprovincial, adaptado a una hipótesis de reactivación ferroviaria. El proyecto se encuentra en fase preliminar. La cuestión principal gira en torno a la decisión de su localización específica, que deberá considerar el profundo efecto transformador propio de una obra civil de gran calibre, tanto en relación a la plataforma natural como al sistema de asentamientos humanos. También sus alcances territoriales y el impacto potencial en la micro, meso y macroescala. El propósito de la investigación reside en profundizar sobre las dimensiones involucradas por el proyecto (técnica, social, económica, ambiental, de movilidad), en la búsqueda de una toma de posición que permita echar luz sobre los escenarios más beneficiosos y/o menos desfavorables, en relación a las numerosas propuestas de localización que se encuentran actualmente en discusión. El resultado es una matriz analítica basada en variables cuantitativas y cualitativas, que permite una evaluación integral de las propuestas en función de considerar, en síntesis, el grado de impacto sobre la plataforma natural sustentante, sus capacidades para revertir las problemáticas territoriales actuales, y finalmente sus posibilidades para generar nuevos ejes de desarrollo en la región o bien potenciar los existentes. Se concluye que análisis preliminares de tipo pluridimensional son necesarios para someter a discusión, como instancia previa a estudios específicos de factibilidad y viabilidad, puesto que permiten una visualización integral de las variables intervinientes, marcando el camino hacia su adecuada ponderación.
Fichier principal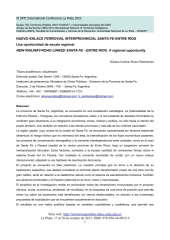 INTI-2012-LaPlata-CODINA-REINHEIMER.pdf (1.03 Mo)
Télécharger le fichier
Origin : Files produced by the author(s)