The Strategic Environmental Assesment as a tool for land planning and management. / A avaliação ambiental estratégica como ferramenta ao planejamento e à gestão do território.
Planned to be a process of early evaluation of Politics, Plans and Programs (PPPs), which interfere in the environment; the Strategic Environmental Assessment (SEA) suggests a methodology for planning and managing the land, which overcomes the limitations of the traditional plans that try to mitigate the environmental impacts of Projects, assuming a pro-active conception that incorporates the social and environmental aspects in the planning stage of the PPPs. This kind of Evaluation surpasses the existing limitations of the Environmental Impact Assessment (EIA), once the EIA happens after the planning process, when lots of decisions have been made and carried out. In order to overcome the limitations of EIA, the SEA is a strategic tool in the process of planning and managing the land. When we focus on the PPPs and not on the Projects, the SEA, which is more political than technical, priorizes the strategies that assure the integration of the environmental, social, economic and institutional aspects into the planning process, in private or public organizations. In this context, this work aims to establish the concept basis of the Strategic Environmental Evaluation as a tool for land planning and managing. The methodology procedures used here lie in the literature review concerning the SEA, analyzing how this tool can be introduced as an alternative for sustainable development. Although the SEA is a tool that introduces the sustainable development theme as a guiding principle of planning, it is seldom used by managers and decision makers, locally and nationally.
Em 1969, o Congresso Americano aprovou o Ato da Política Nacional para o Meio Ambiente (The National Environmental Policy Act - NEPA) que estabeleceu, pela primeira vez, uma relação direta entre os processos de tomada de decisões e o meio ambiente. Esse Ato institucionalizou a Avaliação de Impacto Ambiental (AIA) como ferramenta para a avaliação prévia de impactos que afetem fatores ambientais e sociais...
Fichier principal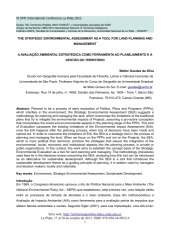 INTI-2012-LaPlata-Silva.pdf (169.55 Ko)
Télécharger le fichier
Origin : Files produced by the author(s)