Territorio e infraestructura. Identificación estratégica y ponderación de proyectos.
Nowadays, the concept of territory is viewed as an organized whole which cannot be considered isolating each of the elements that make it up; said elements are defined according to their relationships with each other. Thus, a thought that integrates different disciplines and fields of knowledge begins to handle a reality that is far from defining immovable certainties and starts to glimpse strategic horizons. Adjustment to the nonlinearity of the relationships that occur regarding the territory, and the different speeds players move compel us to make flexibility the essential feature of strategic planning methodology. The phenomena multi-causality that structures the territory compels us to build qualitative criteria, understanding that it is impossible to measure these causal chains and their complete reconstruction in time; notwithstanding the fact that we should build a deep action frame and formulate a transformation in response to a certain true reality. The phenomena produced in relation to the territory can never be cut off from the rest, what implies a certain responsibility when time calls for comprehension of synergies and of the restriction that affects the results of the processes unleashed. This presentation refers to the Second Phase of the process of strategic identification related to the Territorial Strategic Plan (Plan Estratégico Territorial, PET) projects, which began in 2005; said Plan is carried out by the Ministry of Federal Planning Undersecretary of Territorial Planning, and its approach is based on three purposes: institutionalizing the strategic thinking practice; strengthening a work methodology that is transdisciplinary and multi-sector; and designing a system to ponder strategic infrastructure projects with strong qualitative grounds, both within the provincial level and the national level. This process resulted in a pondered portfolio of infrastructure projects, aided by a methodology that enabled consolidation of provincial planning teams both in their relationships with political decision-makers as well as with players coming from several sectors of government, which ultimately consolidate and strengthen a culture of strategic thinking about the territory.
El Territorio hoy es visto como una totalidad organizada que no puede ser pensada separando cada uno de los elementos que la componen; cada uno de ellos es definido por su relación con los otros elementos. Así, un pensamiento que integra diferentes disciplinas y saberes comienza a manejar una realidad que lejos está de definir certezas inamovibles, y comienza a vislumbrar horizontes estratégicos. La adaptación a la no-linealidad de las relaciones que se dan sobre el territorio, y la diferencia de velocidades en las que actúan los distintos actores, nos exige hacer de la flexibilidad una característica esencial de la metodología de planificación estratégica. La multi-causalidad de los fenómenos que estructuran el territorio nos obliga a construir criterios cualitativos, entendiendo que nos es imposible la medición de estas cadenas causales y su reconstrucción completa en el tiempo; sin dejar por ello de edificar un marco profundo de acción y transformación que responda a una realidad cierta y veraz. Los fenómenos producidos sobre el territorio nunca actúan de manera aislada, lo que implica una responsabilidad a la hora de comprender las sinergias y la restricción que afectan los resultados de los procesos desatados. La presente ponencia corresponde a la Segunda Fase del proceso de identificación estratégica de los proyectos Plan Estratégico Territorial (PET) que se inició en el año 2005; dicho Plan es llevada a cabo por la Subsecretaría de Planificación Territorial del Ministerio de Planificación Federal[1] y fue abordado sobre la base de tres pretensiones: institucionalizar el ejercicio del pensamiento estratégico, fortalecer la metodología de trabajo transdisciplinaria y multisectorial, y diseñar un sistema de ponderación de proyectos estratégicos de infraestructura, tanto a nivel provincial como nacional, con una fuerte base cualitativa. Este proceso dio como resultado una cartera ponderada de proyectos de infraestructura conjuntamente con una metodología que permitió consolidar los equipos provinciales de planificación, tanto en su relación con los decisores políticos como con los actores de los múltiples sectores del gobierno, y en estos resultados consolidar y reforzar una cultura del pensamiento estratégico sobre el territorio.
Fichier principal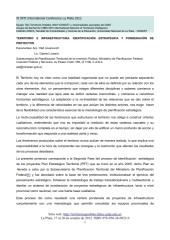 INTI-2012-LaPlata-Jovanovich.pdf (290.8 Ko)
Télécharger le fichier
Origin : Files produced by the author(s)