Gestión del paisaje y Ordenamiento Territorial. Abordajes conceptuales y metodológicos
The purpose of this paper is to develop an overview about the relevance of landscape management within territorial planning, an issue whose discussion has emerged in recent years, and based on which have developed numerous techniques and regulations in Europe and North America. Globalization process has intensified dynamics of territorial dispersion, urban homogenization and functional specialization. In Europe and the U.S., in response to these dynamics, it has launched land management strategies on the basis of landscape management. The actions respond to the implementation of policies, methodologies and interventions imbued with a conception of landscape understood as an attribute of the entire territory, referred both to singular or quotidian and degraded spaces. From urban and regional diagnosis, some instruments begin to be implemented, deepening territory knowledge from this approach. The establishment of international agreements aimed to impulse landscape management, has promoted the development of laws, instruments and projects that put the landscape as an important component within the territorial and urban planning, set in two clearly defined lines: a proactive line in which the landscape is considered as activator of patrimonial territories, and a regulation line made of laws wih intends to guide land management associated to the landscape. The experiences in Europe and North America in terms of landscape management strategies invite to think on Latin American scene. It can be verify that these strategies have some level of transfer to other contexts, making it clear that the landscape concept can be use to response to territorial planning in contexts less developed than Europe, taking into account that demands are different. Thus, it remains to answer how to implement these projects within the Latin American context, solving problems that exceed the level of developed countries, and where landscape can be constituted as a tool for recognition of the particular local identity, in addition to a significant role in the environmental area.
El propósito de la ponencia es elaborar un panorama sobre la relevancia de la gestión del paisaje dentro del ordenamiento territorial, un tema cuya discusión ha emergido en los últimos años y en base al cual se han desarrollado numerosas normativas y técnicas dentro del contexto europeo y norteamericano. El proceso de globalización ha intensificado las dinámicas de dispersión territorial, homogeneización urbana y especialización funcional. En Europa y EEUU, como respuesta a éstas dinámicas, se han impulsado estrategias de gestión territorial sobre la base del ordenamiento del paisaje. Las acciones emprendidas responden a la instrumentación de políticas, metodologías e intervenciones impregnadas de una concepción de paisaje entendido como atributo de la totalidad del territorio; referido tanto a los espacios singulares y/o destacados como a los cotidianos y degradados. Desde el diagnóstico urbano y territorial comienzan a implementarse instrumentos que profundizan en el conocimiento del territorio desde este enfoque. El establecimiento de acuerdos internacionales dirigidos a impulsar la gestión del paisaje, ha promovido el desarrollo de legislaciones, instrumentos y proyectos que sitúan al paisaje como un componente destacado dentro del ordenamiento territorial y la planificación urbanística, que se establecen dentro de dos líneas claramente definidas: una línea propositiva en la que el paisaje es considerado como reactivador de territorios patrimoniales y una línea normativa, integrada por leyes que intentan guiar la gestión del territorio asociado a la valoración del paisaje. Las experiencias desarrolladas en Europa y en Norteamérica en materia de gestión del paisaje Invitan a pensar en estrategias adecuadas al escenario latinoamericano. Puede verificarse que dichas estrategias presentan cierto nivel de transferencia a otros contextos, dejando en claro que es posible utilizar el concepto de paisaje para dar respuesta a cuestiones de ordenamiento territorial en contextos con menor nivel de desarrollo que el europeo, sin dejar de tener en cuenta que las demandas son diferentes. De esta manera, queda por responder cómo implementar este tipo de proyectos dentro del contexto latinoamericano, resolviendo problemáticas que exceden la escala de los países desarrollados, y donde el paisaje puede constituirse como una herramienta de reconocimiento de la particular identidad local, además de cumplir un significativo rol en el aspecto medioambiental.
Fichier principal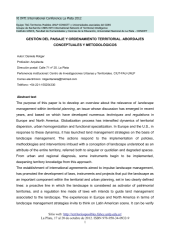 INTI-2012-LaPlata-Rotger.pdf (271.31 Ko)
Télécharger le fichier
Origin : Files produced by the author(s)