De l'histoire des ordres à l'histoire urbaine. Moines et religieux dans la ville (XIIe-XVe s.)
The study of monks and clerics within an urban context seems at first sight evocative of many previous papers, particularly those presented in Fanjeaux and published in a journal devoted to the different religious orders and their impact on the religious life of medieval Southern France. This is however not the case, since focusing on the city repre¬ sents a radically new angle of approach. Forty years ago, Jacques Le Goff suggested that the presence of at least one monastery of Mendicant friars in an urban area could constitute a criterion to call it a city. In the same way, the number of monasteries was used to build a hierarchy of cities. Converging works carried out by historians specialized in urban spaces as well as scholars studying the history of religion in Italy have since then triggered a shift in perspective which now considers the city, an attractive place and living space, as the centre of all research.
De prime abord, le projet de traiter des moines et des religieux dans la ville semble conduire à la répétition de bien des sujets déjà traités, et particulièrement, à Fanjeaux, dans les cahiers consacrés aux divers ordres religieux qui ont marqué la vie religieuse du Midi de la France au Moyen Age. Il n'en est rien, car le choix de faire porter la réflexion sur la ville modifie radicalement l'angle d'attaque. Voici quarante ans, Jacques le Goff avait proposé de retenir le critère de la présence d'un couvent de frères mendiants au moins dans une agglomération pour la qualifier de ville, et celui du nombre des couvents pour discerner une hiérarchie entre les villes. Les travaux convergents des historiens de la ville et des historiens du fait religieux en Italie ont produit depuis lors un retournement de perspective qui fait de la ville, considérée en tant que lieu attractif et en tant que milieu de vie, le point nodal de la recherche.
Fichier principal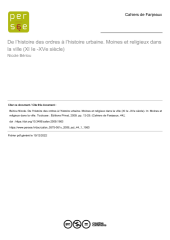 cafan_0575-061x_2009_act_44_1_1963.pdf (1.11 Mo)
Télécharger le fichier
Origin : Publisher files allowed on an open archive