PRO-ACT : une plateforme de gestion de PROjet territorial au service des ACTeurs
The arrival of new technologies of information and of communication, particularly Web 2.0, allowed to establish collaborative information on watch systems able to be enhanced by the various actors of a territory. These new tools bring interrogation to the researchers, on heuristic aspects, as much as to the actors of the territory, on the operational aspects.
L'arrivée des nouvelles technologies de l'information et de la communication, et notamment le web 2.0, a permis la mise en place de veilles informatives et la constitution de systèmes d'informations collaboratifs pouvant être enrichis par les différents acteurs d'un territoire. Ces nouveaux outils interrogent autant les chercheurs, sur les aspects heuristiques, que les acteurs du territoire, sur les aspects opérationnels. Notre réflexion et la publication qui en découle font suite à une action EQUAL qui s'est déroulée en Pays d'Arles et dont la CCIPA est tête de liste. Cette action a suscité la mise en place d'outils et de méthodes issues, en partie, de l'intelligence territoriale. L'intelligence territoriale est une discipline qui ne se réduit pas à la seule démarche de veille mais relève plutôt d'une logique pro-active de type bottom-up (Bertacchini, 2006) qui doit permettre aux acteurs d'anticiper les risques ou les opportunités d'un territoire à partir de diagnostics partagés. Son rôle est de : - faire émerger des problématiques spécifiques au territoire ; - mettre en relation des différents acteurs autour de projets de développement durable. L'intelligence territoriale intègre de fait l'approche systémique par la mise en réseau de l'information et des compétences détenues par les acteurs en vue d'asseoir un développement concerté des territoires. Nous proposons dans cette communication de présenter un outil d'observation et de gestion de projet qui s'inscrit dans cette optique. Cet outil poursuit plusieurs objectifs. Le premier d'entre eux est l'identification des spécificités d'un territoire et la mise en lumière de ses forces et ses faiblesses. Ce travail s'effectue à partir d'un diagnostic qui croise des données collectées auprès des différents acteurs acceptant de partager et diffuser des informations concernant leur activité. Le diagnostic doit obéir à un certain nombre de règles pour être valide (comparabilité des données, robustesse de l'information...). Le deuxième objectif consiste à identifier des enjeux et les compétences qui sont propres aux différents acteurs en les faisant réagir sur les résultats du diagnostic. L'intégration de la perception des acteurs dans la chaîne méthodologique apporte une plus-value importante puisqu'elle est à l'origine de nouveaux indicateurs, les variables d'enjeux, qui constituent la base de la réflexion. Le troisième objectif est de faire construire aux acteurs des scénarios prospectifs sur la base de leviers d'action en imaginant ce qu'il se passerait si on agissait sur tel ou tel indicateurs. Cette dernière phase se fait en concertation et plusieurs scénarios peuvent être envisagé. Au delà de la présentation de l'outil et de la méthode, ce texte insiste sur les contraintes de mise en place d'une démarche d'intelligence territoriale et les pré-requis indispensables à son bon fonctionnement. Comme le souligne Y. Bertacchini (2000) : " L'existence ou l'inexistence d'un réseau de relations entre acteurs locaux peut s'avérer être une barrière ou un catalyseur dans la construction ou la reconstruction du lien territorial".
Fichier principal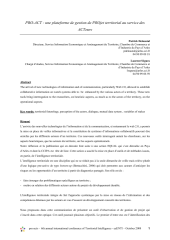 INTI-2008-Besancon-Deloustal.pdf (128.8 Ko)
Télécharger le fichier
Origin : Files produced by the author(s)