Vers un outil participatif d'aide à la décision en matière d'implantations commerciales
Retail activities are more and more regulated. This regulation requires efficient management and decision support tools. In this framework, the University of Liège, in Belgium, works to implement this kind of tool on the Walloon Region. In this one, a cartographic interface allows to locate, analyse and quantify retail supply. The interactive and multidimensional tool makes the diagnosis of a reference territory (the market area of a retail project) while permitting the implementation of a participative space regrouping the actors at least at two scales: intra communal and supra communal improving the governance in this sector.
Le souci croissant de règlementation de l'activité commerciale entraine la nécessité de disposer d'outils de gestion et d'aide à la décision performants. L'Université de Liège, en Belgique, a créé un tel outil à l'échelle du territoire wallon. Au sein de celui-ci, une interface cartographique offre la possibilité aux communes de localiser, analyser et quantifier l'offre commerciale. Sa dimension interactive et multidimensionnelle facilite le diagnostic d'un territoire de référence (la zone de chalandise d'un projet commercial) tout en permettant la mise en place d'un espace participatif regroupant les acteurs au moins à deux échelles : intra-communale et supra communale améliorant la gouvernance dans ce secteur.
Fichier principal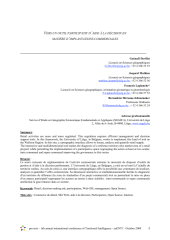 INTI-2008-Besancon-Devillet-fr.pdf (2.83 Mo)
Télécharger le fichier
INTI-2008-Besancon-Devillet-en.pdf (2.86 Mo)
Télécharger le fichier
Origin : Files produced by the author(s)
Origin : Files produced by the author(s)