Emergence d'un projet de territoire pour les arrondissements de Huy et de Waremme (Belgique): outils, participation et construction
The emergence of a territory project built and shared by the actors implies the use of special methods which make it possible to transcend the private interest for the benefit of a territorialized community good. The example of the territorial project for the districts of Huy and Waremme (Belgium, 2007) makes it possible to put forward useful and diversified methods to cause and frame the debates, while taking into account the number, the representativeness and the diversity of the actors in a strongly diversified territory. It deals with the integration of the territorial observation in a territories development process and in the confrontation of the theoretical and pragmatic approaches.
L'émergence d'un projet de territoire construit et partagé par les acteurs implique l'utilisation de méthodes particulières qui permettent de dépasser l'intérêt particulier au profit d'un bien commun territorialisé. L'exemple du projet territorial pour les arrondissements de Huy et de Waremme (Belgique, 2007) permet de mettre en exergue des méthodes utiles et diversifiées pour susciter et encadrer les débats, tout en prenant en compte le nombre, la représentativité et la diversité des acteurs dans un territoire fortement diversifié. Celui-ci traite de l'intégration de la veille territoriale dans un processus de développement des territoires et de la confrontation entre les approches théoriques et pragmatique.
Fichier principal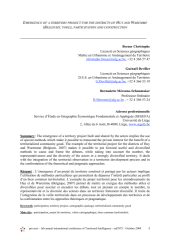 INTI-2008-Besancon-Breuer-en.pdf (936.76 Ko)
Télécharger le fichier
INTI-2008-Besancon-Breuer-fr.pdf (927.91 Ko)
Télécharger le fichier
Origin : Files produced by the author(s)
Origin : Files produced by the author(s)