Du territoire au territoire par l'observation, prendre en compte la diversité des territoires et adapter les méthodes et les outils.
We propose a conceptual and graphical model of the territory built from an empirical intuitive and deductive approach of systemic paradigm of territorialization. This model is based on an individualized approach before being extended to the collective level. It is first seen in the context of the evolution of the concept in scientific thinking. Then, we introduce it in understanding the dynamics of the territory, under the paradigm of territorial intelligence, through observation and observatories that we adapt to the context of governance systems at different scales.
Nous proposons un modèle conceptuel et graphique de territoire construit à partir d'une approche empirique, intuitive et déductive du paradigme systémique de territorialisation. Ce modèle s'appuie sur une approche individualisée avant d'être étendu au collectif. Il est d'abord replacé dans le contexte de l'évolution du concept dans les pensées scientifiques. Puis, nous l'introduisons dans la compréhension des dynamiques territoriales, vues sous l'angle de l'intelligence territoriale à travers l'observation et des observatoires que nous faisons évoluer dans le cadre de systèmes de gouvernance à plusieurs échelles.
Fichier principal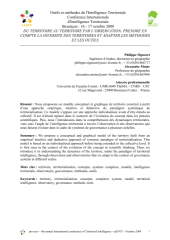 INTI-2008-Besancon-Signoret.pdf (1.22 Mo)
Télécharger le fichier
INTI-2008-Besancon-Signoret-en.pdf (842.25 Ko)
Télécharger le fichier
Origin : Files produced by the author(s)
Origin : Files produced by the author(s)