L'intelligence territoriale à l'œuvre: une démarche coopérative et partenariale de diagnostic territorial rassemblant acteurs et chercheurs
In the general frame of CAENTI after two years of WP4T work an active partnership has started between social actors of the Belgian association of Optim@, that is working in Seraing, and the French research team of OER, that works about rural school. On the suggestion of Optim@, the two partners have answered positively to the request of territorial diagnosis which have expressed the local actors and political deciders of the wallon city of Chapelle-lez-Harlaimont... With the aid of the French research laboratory MTI (ThéMA) the two partners are actually from March 2008 developing a collective participating approach that uses the digital tools (CATALYSE) of the territorial intelligence (Bertacchini, 2004; Dumas, 2004; Girardot, 2004, 2007) for increasing the local sustainable development (Bruntland, 1987) of the industrial city of Chapelle-lez-Herlaimont. As participating observers the two authors study the project of territorial diagnosis and the participating approach. The authors analyse first the organization of the three partners (OER, Optima@ and MTI), the participating approach of co-construction (Legardez, 2007) of the territorial knowledges, the calendar of the operations and, if possible, the first qualitative and quantitative results. They examine the level of pertinence and efficiency of the applied research for the local sustainable development of Chapelle-lez-Herlaimont. They measure the weight of the explicative variable that comes from territory and especially the eventual weight of territorial effects (Bidou- Zacchariasen, 1997; Champollion, 2005, 2007). They begin to evaluate the process of territorial intelligence that is developed in this operation.
Dans le cadre général de l'Action de coordination du réseau européen d'intelligence territoriale (CAENTI), à l'issue de deux années de fonctionnement du groupe de travail sur la notion de territoire (WP4T), un partenariat actif s'est engagé entre les acteurs sociaux de l'association belge d'Optim@, sise à Seraing, et l'équipe française de chercheurs en sciences humaines et sociales (SHS) de l'Observatoire de l'Ecole Rurale (OER), issue de cinq instituts universitaires de formation des maîtres (IUFM) du sud-est de la France. Sur la suggestion des animateurs d'Optim@, les deux partenaires précités ont répondu positivement à la demande de diagnostic territorial, incluant une analyse contextuelle, émise par les acteurs locaux et les décideurs politiques de la ville de Chapelle-lez-Herlaimont en Wallonie. Avec l'aide technique de la composante MTI@SHS du laboratoire ThéMA CNRS-UFC, les deux mêmes partenaires sont ainsi en train de développer, depuis mars 2008, une démarche d'enquête participative collective utilisant les outils d'investigation scientifique numériques (CATALYSE) de l'intelligence territoriale (Bertacchini, 2004; Dumas, 2004 ; Girardot, 2004, 2007) en vue de dynamiser le développement durable (Bruntland, 1987) territorial local du site industriel de Chapelle-lez-Herlaimont.
Fichier principal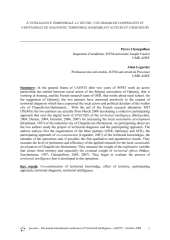 INTI-2008-Besancon-Champollion.pdf (186.78 Ko)
Télécharger le fichier
Origin : Files produced by the author(s)