Manual for use of the Accem's observatories
The Manual of the devices for observing ACCEM has been elaborated for all those who use the technical tools and methodologies for diagnosis of needs. The main objective of this document is to make the use and understanding of the tools for data collection and diagnosis easier, making them more aproachable to junior technicians and promoting the empowerment of those most experienced.
El Manual de uso de los dispositivos de observación de Accem está dirigido a todos aquellos técnicos que emplean la herramientas y metodologías para el diagnóstico de necesidades. El objetivo principal de este documento es el de facilitar el uso y comprensión de las herramientas de recogida de datos y explotación de los mismos para el diagnóstico, haciéndolas más accesibles a técnicos noveles en la entidad y favoreciendo la autonomía de aquellos más experimentados.
Fichier principal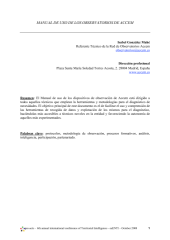 INTI-2008-Besancon-Mahe-es.pdf (558.71 Ko)
Télécharger le fichier
INTI-2008-Besancon-Mahe-en.pdf (605.53 Ko)
Télécharger le fichier
Origin : Files produced by the author(s)
Origin : Files produced by the author(s)