Conférence climatique de Paris 2015 : que peut la diplomatie française ?
The climate issue doesn't seem to figure as a top priority on the agenda of the French government and diplomacy. Yet, it was the President, Francois Hollande, himself who suggested in September 2012 that the meeting, aiming to seal a new global agreement on climate change, should be held in Paris on December 2015. The U.S. however, has already submitted key proposals for the conference, and is the first to have done so. Everything is still up for negotiation. The broad lines of the agreement due to be signed in Paris are however already know: 1) no international binding agreement, but only the implementation of "national policies", 2) no member State commitment, but only "contributions" and 3) an end to the bifurcated approach (sic the American proposal) of the moribund Kyoto Protocol, where only developed countries were committed to reducing their greenhouse gas emissions with the result we know. This time round, voluntary contributions, of a diverse nature, are expected from the majority of countries, including those both emerging and developing. Unfortunately, however, the objectives already expected to be taken to reduce greenhouse gas emissions won't work miracles with regard to the stabilisation of emissions. Reaching a broadly acceptable compromise safeguarding solidarity with the most vulnerable countries and communities would require, at the very least, active diplomacy well ahead of December 2015.
Le climat ne semble pas au plus haut de l'agenda du gouvernement français et de sa diplomatie. C'est pourtant le Président François Hollande qui a proposé, en septembre 2012, que la réunion censée conclure un nouvel accord global sur le climat se tienne à Paris en décembre 2015. Les Etats-Unis, eux, ont déjà soumis - premier pays à l'avoir fait - leurs propositions clés pour la conférence. Tout reste à négocier. Les grandes orientations de l'accord qui devrait être signé à Paris sont cependant déjà connues : 1) pas d'accord international contraignant, mais seulement des " politiques nationales ", 2) pas d'engagement des Etats, mais seulement des " contributions " et, 3) fin de l'approche à deux vitesses ("bifurcated approach", selon les termes de la proposition américaine) de feu le Protocole de Kyoto, où seuls les pays développés s'étaient engagés, avec les résultats que l'on sait, à réduire leurs émissions. Cette fois, des contributions volontaires, de nature variable, sont attendues de la plupart des pays, y compris émergents et en développement. Mais les objectifs concrets de réduction des émissions de gaz à effet de serre que l'on peut déjà anticiper ne produiront pas, hélas, de miracle en matière de stabilisation des émissions. Pour qu'un compromis soit acceptable par le plus grand nombre, et sauvegarde la solidarité avec les pays et communautés les plus vulnérables, il y faudrait au minimum une diplomatie active bien en amont de décembre 2015.
Fichier principal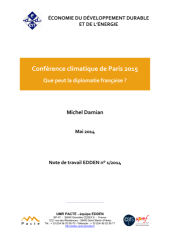 NT1-2014_MD_conferenceParis2015.pdf (301.68 Ko)
Télécharger le fichier
Origin : Files produced by the author(s)