Movilización de información en el Ordenamiento Territorial de Bosques Nativos de Argentina.
In this paper we propose a geographical analysis highlighting the social and political role of environmental information in the implementation of complex legal systems aimed at regulating the advance of the agricultural frontier in South America; we present a case-study focusing on the Argentine Law on Forests ("Ley de Bosques") of 2007. In order to curb deforestation, this law requires every Argentine province to draw a native forest land planning map ("OTBN") classifying forests according to their conservation priority and sets up a scheme of financial incentives for landowners, within the constitutional framework of "minimum common environmental standards" ("presupuestos mínimos de protección"). By exploring the heterogeneity of the mapping processes across provinces we try to shed some light on their political implications. A geographical description of the patterns followed by the classification of forests in the different provinces, of the kinds of information mobilized by the actors, and of the methods employed to draw the land planning maps reveals that very little ecological information was actually used, that no new information was created specifically for the OTBN, and that no explicit mapping methods were applied, which resulted in extremely different ways of producing the maps. These results show that the implementation of the Ley de Bosques is backed by a feeble information basis and is far from responding to scientific quality standards. This may be read, first, as a sign of the inability of the public powers to initiate a serious public discussion regarding the ecological aspects of land planning. Second, we argue that environmental information functions as an asset in the negotiations between the federal and provincial powers. Third, we suggest that, in spite of the weak capacities of state agencies we detected, the process shows an emerging capacity of the federal environmental authorities to place themselves as an arbiter of the management of natural resources in Argentina, in the face of an adverse context marked by strong opposition to the regulation of activities affecting these resources.
En este artículo, proponemos un análisis geográfico del papel social y político que juega la información ambiental en la implementación de sistemas legales complejos de regulación de los avances de la frontera agropecuaria en América del Sur, tomando como caso de estudio la "Ley de Bosques" argentina (2007). En el marco de esta ley, cada provincia argentina tuvo que elaborar un mapa de Ordenamiento Territorial de Bosques Nativos (OTBN), tendiente a reducir la tasa de deforestación mediante una jerarquización de sus bosques, el establecimiento de mecanismos de incitación financiera destinados a los productores rurales, dentro del marco constitucional de las "normas de presupuestos mínimos de protección" ambiental. Este artículo explora la heterogeneidad de estos procesos de mapeo, con el objetivo de analizar su significado político. Mediante una descripción geográfica de las lógicas de clasificación de bosques en varias provincias, del tipo de información movilizada por los actores, y de los métodos de mapeo, se pone en evidencia que la escasez de información ecológica movilizada, la ausencia de creación de información específica para los OTBN, así como la ausencia de explicitación de métodos de mapeo habilitaron formas muy dispares de elaboración. Estos resultados demuestran que la implementación de la Ley de Bosques está respaldada en una información fragmentaria y muy lejos de responder a cánones de calidad científica. Esta situación puede ser interpretada primero como el signo de una incapacidad de los poderes públicos para dar espacio político a una discusión de fondo sobre la dimensión ecológica del ordenamiento territorial. Segundo, como el signo de que la información ambiental sirve como variable de negociación entre los poderes federales y las provincias. Tercero, y no obstante lo dicho anteriormente, demostraría una incipiente capacidad de instancias del Estado federal para ubicarse como árbitro en la gestión de recursos naturales en Argentina, a pesar de un contexto desfavorable de fuerte oposición a la regulación de las actividades que los afectan.
Fichier principal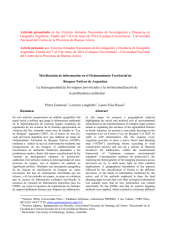 Gautreau_Langbehn_Ruoso_2014.pdf (577.74 Ko)
Télécharger le fichier
Origin : Files produced by the author(s)