Libre concurrence et méthodologie walrasienne: une tentative de mise en relation
The economists who has contributed to the development of General Equilibrium Theory and the historians of Economic Analysis agree upon the fact that the nature of competition has been understood as a revelating process or as a result of antagonisms among agents, or as a state much or less perfect or pure defined a set of hypothesis. The Theory of General Equilibrium belongs to the second definition. We show, here, that this interpretation has not always been intended by Léon Walras. Both conceptions are present in its work, notably if we analyse the existing relation between the market "une fois pour toute" (one shot market) and the permanent market, between statics and dynamics and between pure, appllied and social economy.
Les économistes ayant contribué au développement de la théorie de l'équilibre général et les historiens de l'analyse économique s'accordent à admettre que la notion de concurrence a été appréhendée, soit comme un processus révélateur ou résultant des antagonismes entre agents, soit comme un état, plus ou moins parfait ou plus ou moins pur, défini par une série d'hypothèses. La théorie de l'équilibre général relève de la seconde définition. Nous nous attachons à montrer ici que tel n'a pas toujours été l'intention de Léon Walras. Ces deux conceptions sont présentes dans son œuvre notamment si l'on analyse les relations qui existent entre le "marché une fois pour toute", le "marché périodique" et le "marché permanent", entre la statique et la dynamique et entre l'économie pure, l'économie appliquée et l'économie sociale.
Fichier principal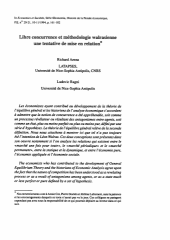 Ragni Libre concurrence et méthodologie walrasienne une tentative de mise en relation.pdf (870.83 Ko)
Télécharger le fichier
Origin : Publisher files allowed on an open archive