L'intercommunalité dans la régulation publique territoriale. Le cas de deux communautés d'agglomération franciliennes
Turning away from a critical analysis of inter-municipal authorities which remains mainly based on their inability to meet some expected results (economies of scale, streamlining of policies, functional and social diversity, redistribution of resources) this article focuses on the outcomes of inter-municipal policies. Through consideration of various examples from the study of two 'communautés d'agglomération' in the Ile-de-France region, we develop two complementary approaches. First, we characterise the role of inter-municipal authorities in what we call the 'territorial rule-building process', that is the way the way public actors of different government levels come to an agreement on the rules (norms, ratios, perimeters, etc.) that serve as guidelines for local public action. Second, we identify the specific contribution of inter-municipal technical units in their ability to build a collective vision of urban development which goes further than municipal strategies.
Dans cet article, nous cherchons à sortir d'une analyse critique du fait intercommunal qui se fonde principalement sur le constat d'un manquement de ces institutions vis-à-vis d'un certain nombre d'attendus normatifs (économies d'échelle, rationalisation des choix politiques, mixité sociale et fonctionnelle, redistribution des ressources) afin d'ouvrir une discussion sur les effets de la coopération intercommunale. Pour ce faire, nous ouvrons deux pistes d'analyse, en nous appuyant sur l'étude de deux communautés d'agglomération en région Ile-de-France. D'une part, nous cherchons à caractériser le rôle de l'intercommunalité dans le processus de régulation publique territoriale, à travers lequel les acteurs publics d'échelons différents confrontent des règles d'action sur un territoire donné qui relèvent de rationalités différentes et aboutissent (ou non) aux termes d'ajustements ou de compromis à des règles d'action communes. D'autre part, nous tentons d'identifier l'apport spécifique des services techniques communautaires, en particulier dans leur aptitude à construire une vision de l'aménagement communautaire transgressant les simples visions municipales.
Fichier principal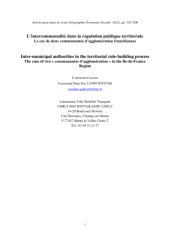 Preprint-GES-CG-2014 (1).pdf (461.8 Ko)
Télécharger le fichier
Origin : Files produced by the author(s)