Visitas guiadas y marketing de la diferencia en Cartagena de Indias
This article treats the performance of difference in the tourist presentation of Cartagena de Indias, on the Colombian Caribbean coast. The authors centre their analysis on the "paseo en chiva", a guided tour in a folkloristic bus which travels from one tourist site to another, to show how the city becomes an object of consumption through which the local history and culture emerge as easily appropriable global products and signs. Principal site of the slave trade in the territory of New Grenada and contemporary incarnation of a Spanish colonial past, Cartagena is particularly congruous for consideration of the identities of the city and those within it, identities which allude to the marketing of black culture and bodies, and to the evocation of the mestizaje associated with Latin America. At the crossroads between urban and ethnic studies, this article proposes an analysis of the production of a place in which differences are (faceted as) tourist resources which can be consumed itinerantly, thus producing a history and identities which, standardized and stereotyped, in turn act upon the relation of the inhabitants to their city.
Este artículo trata de la puesta en escena de la diferencia en la presentación turística de Cartagena de Indias, en la costa Caribe colombiana. Al centrarse en la práctica del "paseo en Chiva", visita con guía en un autobús popular que circula de un lugar turístico a otro, se trata de mostrar cómo la ciudad se transforma en objeto de consumo, a través del cual la historia y la cultura local se convierten en productos y signos fácilmente apropiables a nivel global. Antiguo puerto de entrada de los esclavos al territorio de la Nueva Granada, y también símbolo del pasado colonial español, Cartagena se presta muy bien a una reflexión sobre las identidades en y de la ciudad, que se refiere tanto a la comercialización de la cultura y del cuerpo negros que a la evocación de un mestizaje asociado a América Latina. Entre estudios sobre la ciudad y sobre la etnicidad, este texto propone un análisis de la producción de un lugar en el cual las diferencias son recursos turísticos, que pueden ser consumidos durante el paseo. El turismo construye así una historia y unas identidades estandarizadas y estereotipadas que tienen consecuencias sobre la relación de los habitantes con su ciudad.
Fichier principal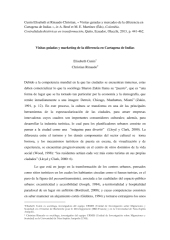 Visitas guiadas (2013-04-08).pdf (327.87 Ko)
Télécharger le fichier
Origin : Files produced by the author(s)