Quelle méthodologie pour une étude des modèles DSGE ? Suggestions à partir d'un état des lieux des recherches sur la modélisation
The purpose of the paper is to provide a methodological framework for a critical analysis of a specific class of macroeconomic models, namely the dynamic stochastic general equilibrium models (DSGE). We suggest some epistemological reflections to explore the underlying methodology and history of the DSGE models. To do this, we decided to rely on a literature review on the contributions about the notion of model and modelling in philosophy, history and sociology of sciences. Our approach tries to define, in an interdisciplinary way, a consistent methodology for dealing with a specific object. The review of this large literature has been organized around two complementary definitions of the object ("model" as concept, for the philosophy and history of sciences and "modelling" as a scientific practice, for the sociology of science) and around three fundamental questions (what is a model? how to build a model? what is the purpose of a model?). Starting from this review, we discuss the main elements which are consistent with an analysis of DSGE models, focusing in particular on intra- and interdisciplinary interactions, on the mechanisms of policy expertise and on the mediation between theories and data.
L'objectif du papier est de définir un cadre méthodologique pour une analyse critique d'une classe particulière de modèles macroéconomiques, les modèles d'équilibre général dynamique et stochastique (dynamic stochastic general equilibrium, DSGE). Il s'agit de mettre en évidence des pistes de réflexion épistémologique qui permettent de sonder la méthodologie et l'histoire sous-jacentes aux modèles DSGE. Pour atteindre cet objectif, nous nous appuyons sur une revue de littérature sur les modèles et la modélisation en philosophie, histoire et sociologie des sciences. Cette démarche qui essaie de déterminer, de façon interdisciplinaire une méthodologie apte à traiter un objet particulier. Le panorama du vaste corpus existant a été organisé autour de deux définitions complémentaires de l'objet (le « modèle » en tant que concept pour la philosophie et l'histoire des sciences, et la « modélisation » en tant que pratique scientifique pour la sociologie des sciences) et de trois problématiques structurantes (qu'est-ce qu'un modèle ? comment construit-on un modéle ? quelle est la fonction d'un modèle ?). A partir de cet état des lieux, nous discutons ensuite les axes de recherche pertinents pour une étude des DSGE, en se focalisant notamment sur l'interaction inter- et intradisciplinaire, sur les mécanismes de l'expertise et la logique de médiation entre théorie et données.
Fichier principal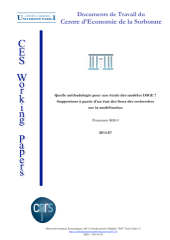 14067.pdf (688.66 Ko)
Télécharger le fichier
Origin : Files produced by the author(s)