Voix et transidentité : changer de voix pour changer de genre ?
The aim of the present study is to show how transgender speakers use fundamental frequency and resonance frequencies to index their gender identities. The roles of these two parameters in the perception and recognition of speakers as "woman" or "man" could be investigated by linking the results of acoustic analyses and perceptual experiences. Ethnographic interviews conducted with the speakers allowed a better understanding of the obtained results; e.g. that misidentification of a speaker's gender can be caused by a conflict between the gender identity s/he tries to index through her/his voice and the attitudes, stances and other identities her/his voice indexes at the same time.
La présente étude a pour objectif de montrer comment des locuteurs transidentitaires utilisent la fréquence fondamentale et les fréquences de résonance pour rendre intelligibles leurs identités de genre. La mise en relation des résultats d'analyses acoustiques et d'expériences perceptives a permis d'investiguer les rôles respectifs de ces deux paramètres acoustiques dans la perception et dans la reconnaissance de locuteurs en tant que « femme » ou « homme ». Des entretiens ethnographiques menés avec les locuteurs ont ensuite permis de mieux comprendre certains des résultats obtenus ; p. ex. une erreur d'identification du genre d'un locuteur peut résulter d'un conflit entre l'identité de genre que celui-ci souhaite rendre intelligible par sa voix et les attitudes, postures ou autres identités que cette même voix indexe.
Fichier principal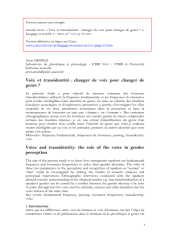 Arnold 12.12.14 (1).pdf (310.94 Ko)
Télécharger le fichier
Origin : Files produced by the author(s)