The Traces of Traditional Culture in the Generation of Collective Action Tactics In the Basque Country:From Toberak to Lip Dub
How do the traces of local culture and folklore influence the "invention" of new social protest tactics? Taking the Basque case, I propose that the native culture leave its imprint on novel tactics of protest through (a) processes of creative collective agency where traditional practices are updated by protesters, within (b) social structures that shape the bases of the political conflict. The empirical study of a recent case of tactical innovation is proposed: the protest lip dub. This consists of a choreographed group performance carried out over a musical track, which is recorded and posted on the Internet for political protest. Setting out from a qualitative visual methodology (Lindlof), I study the contextual and symbolic elements in two concrete cases of protest lip dubs produced in the towns of Durango and Heleta in 2012 in favor of Basque political prisoners' rights. I examine the cultural traces left on these innovative collective action tactics by the Basque traditional rituals involving dance, music and theatre, and I compare them with other cases of theatricalized Basque rituals like the toberak (charivari). As a result, the protest groups creatively update folkloric elements and adapt their form, but not their primary social function, to political action in the present.
Dans quelle mesure les traces de la culture locale et du folklore influencent-elles l'invention de nouvelles tactiques protestataires ? L'article suggère, à partir du cas basque, que la culture locale a laissé son empreinte sur les innovations tactiques protestataires par le biais (a) de création de formes d'action collective réactualisant des pratiques traditionnelles (b) au sein de structures sociales engagées dans la structuration du conflit politique. L'analyse empirique se base sur le lip dub protestataire, une innovation tactique en contexte basque, consistant en une performance chorégraphique menée sur une bande son, enregistrée puis diffusée sur internet à des fins politiques et protestataires. À partir de la méthodologie visuelle qualitative de Lindlof, deux cas de lip dubsprotestataires produits dans les villages de Durango et Hélette en 2012 en faveur des droits des prisonniers politiques sont examinés. L'article s'interroge sur les traces laissées sur ce répertoire d'action par des répertoires rituels traditionnels comprenant danse, musique et théâtre. Les lip dubs sont ainsi comparés à d'autres formes basques de rituels théâtralisées comme les toberak (charivaris). Au final, les groupes protestataires mettent à jour de façon créative des éléments de folklore en ajustant leur forme, mais pas leur fonction sociale originelle, à l'action politique contemporaine.
Fichier principal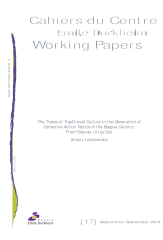 Cahiers du CED_17.pdf (1.31 Mo)
Télécharger le fichier
Origin : Publication funded by an institution