The Lions's Share, Act 2. What's Behind China's Anti-Corruption Campaign?
La part du lion, acte 2 : Les dessous de la campagne anti-corruption en Chine
As we have seen in a previous working paper (« The lion's share : What's behind China's economic slowdown ? »), China's elite have largely benefited from control of state assets and manipulation of the factors market (land, labor and capital) during the first decade of this century. Along with strong growth and social mobility, the accumulation of wealth has created some of the most flagrant social polarization worldwide, much higher than the official statistics. Instead of taking concrete measures to correct these inequalities, according to the new blueprint of reforms launched by the 3rd Plenum in November 2013, the new direction has focused on a gigantic campaign against corruption. The choice of the « tigers » targeted at the highest level reflect an aspect of political infighting. The top-down method as well as the creation of numerous « Central Leading Groups », allows the new secretary general and chairman Xi Jinping to concentrate power on a scale unprecedented since Deng Xiaoping. Behind these political stakes, the real goal of the campaign seems to destabilise vested interest groups in favor of the statuquo, but the social coalition supporting the power is still fragile, with the passive resistance of the local bureaucraties, the alienation of intellectuals and the uncertainties concerning the gains of the private sector.
Comme nous l'avons vu dans un précédent document de travail (« La part du lion : les dessous du ralentissement économique chinois »), l'élite chinoise a largement bénéficié du contrôle des actifs publics et de la manipulation du marché des facteurs (terrain, travail et capital), durant les années 2000. L'accumulation de richesses qui a suivi la forte croissance et la mobilité sociale, a créé l'une des plus fortes polarisation sociale au monde, bien supérieure aux chiffres officiels. Au lieu de prendre des mesures concrètes pour corriger ces inégalités, selon le plan de réformes lancé par le 3ème Plenum de novembre 2013, la nouvelle direction s'est concentrée sur une gigantesque campagne contre la corruption. Le choix des « tigres » visés au plus haut niveau n'est pas étranger à des règlements de compte politique. La méthode très hiérarchique et la création de nombreux « Groupes de direction centraux », permettent au nouveau secrétaire général et président de concentrer le pouvoir sur une échelle sans précédent depuis Deng Xiaoping. Au delà des ces enjeux politiques, le vrai but de la campagne semble être de déstabiliser les groupes d'intérêts en faveur du statu quo, mais la coalition sociale soutenant le pouvoir reste encore fragile, avec la résistance passive des bureaucraties locales, l'aliénation des intellectuels et les incertitudes concernant les bénéfices des réformes pour le secteur privé.
Fichier principal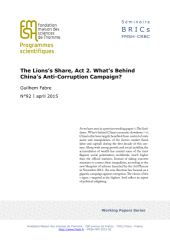 FMSH-WP-2015-92 Fabre2.pdf (492.28 Ko)
Télécharger le fichier
Origin : Files produced by the author(s)