Argentina, Brazil and Mexico fall into turmoil. Quo vadis America?
Argentine, Brésil, Mexique entrent dans la tourmente. Quo vadis Amérique latine ?
From 2003 to 2012, a new period appears in Latin America. Growth is higher, the «basics» ( trade balance, budgetary balance, international reserves, unemployment, formal employment, inflation) more often better, social policies are more or less important depending on the country, poverty recedes and income inequality seems to decrease. The disappearance of the external constraint in the 2000s made less urgent to proceed with structural reforms. It pays now. From 2012, the difficulties appear in Argentina, the Brazil and, to a lesser extent, to the Mexico. The economic miracle becomes mirage, the new eldorado is not. With the brutal reversal of the price of raw materials, new vulnerabilities appear today and result in the prompt return of the external constraint to which the Governments of these countries thought escaped with rising prices and traded volumes. However, globalization is not guilty. This is the way, at least passive, to fit into the international division of labour which is.
De 2003 à 2012, une période nouvelle apparait en Amérique latine. La croissance est plus élevée, les « fondamentaux » (soldes de la balance commerciale et du budget, réserves internationales, chômage, emplois formels, inflation) s'améliorent le plus souvent, les politiques sociales sont plus ou moins importantes selon les pays, la pauvreté recule et les inégalités de revenus paraissent diminuer. La disparition de la contrainte externe dans les années 2000 a rendu moins urgent de procéder à des réformes structurelles. Elle se paie aujourd'hui. A partir de 2012, les difficultés apparaissent en Argentine, au Brésil et, dans une moindre mesure, au Mexique. Le miracle économique devient mirage, le nouvel eldorado en n'est pas un. Avec le retournement brutal du cours des matières premières, de nouvelles vulnérabilités apparaissent aujourd'hui au grand jour et se traduisent par le retour rapide de la contrainte externe à laquelle les gouvernements de ces pays pensaient avoir échappé avec la hausse des cours et des volumes échangés. Pour autant, la globalisation n'est pas coupable. C'est la manière, pour le moins passive, de s'insérer dans la division internationale du travail qui l'est.
Fichier principal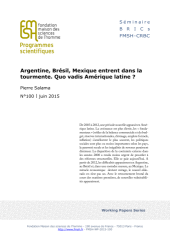 FMSH-WP-2015-100 Salama.pdf (2.56 Mo)
Télécharger le fichier
Origin : Files produced by the author(s)