From personal reparation to the shaping of a collective cause. D.E.S victims getting into courts.
De la réparation individuelle à l'élaboration d'une cause collective. L'engagement judiciaire des victimes du distilbène.
From the case of a drug that caused serious damage over large populations-diethylstilbestrol-this article offers a sociological analysis of victims legal mobilizations. It is conducted in two aspects: on the one hand, the work produced by victims within and on law, on the other hand the back effects of law on victims, their collective and their causes, through the different stages of legal procedures. We highlight a constant tension between a singular judicial experience, marked by isolation and opacity, and the development of a "DES litigation" which plays a key role in the collectivization and the publicization of a public health cause.
À partir du cas d'un médicament ayant entraîné des dommages sur de vastes populations – le distilbène-cet article propose une analyse sociologique des mobilisations de victimes sur la scène judiciaire. Elle est menée sous deux aspects : d'une part le travail produit par les victimes avec et sur le droit, d'autre part les effets en retour du droit sur les victimes, leurs collectifs et leur(s) cause(s), aux différentes étapes de l'engagement judiciaire et de la procédure. Nous mettons en lumière une tension permanente entre une expérience judiciaire singulière, marquée par l'isolement et l'opacité, et l'élaboration d'un « contentieux distilbène » qui joue un rôle déterminant dans la collectivisation et la publicisation d'une cause de santé publique.
Fichier principal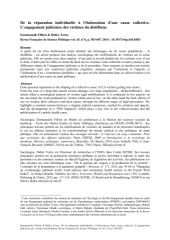 EFDT_RFSP_HAL.pdf (287.39 Ko)
Télécharger le fichier
Origin : Files produced by the author(s)